UK gives revenue from tampon tax to anti-abortion organization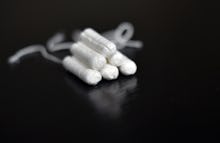 Having failed to abolish its tampon tax outright, the United Kingdom is compensating by giving that revenue to women's charities. Among the largest beneficiaries is an anti-abortion group called Life, which will get £250,000 — or $313,600 — from the 5% value-added tax imposed on sanitary products, according to the Guardian.
Many women's groups are displeased with Life's inclusion, because Life runs Crisis Pregnancy Centers, unregulated by the U.K.'s National Health Service. Like their U.S. counterparts, British CPCs peddle medically inaccurate misinformation to pregnant women in order to sway them away from abortion. 
"It will seem bitterly ironic to many women if we are taxed for our biology, only for the government to hand over that money to organizations that don't even believe we should have control over our own bodies, especially when so many are left without basic sanitary protection," Labor Member of Parliament Paula Sherriff said, according to the Guardian. 
Sherriff argued that a better use for the tampon tax funds might be providing menstrual products to U.K. women who currently can't afford them. The Guardian reported in March that girls across the country were skipping school during their periods for want of sanitary products, or using socks to soak up the blood. 
Member of Parliament Rob Wilson announced Thursday that the £12 million Tampon Tax Fund would be redistributed to 70 charities that "improve the lives of disadvantaged women and girls across the country," according to a news release. Life's stated use for the funds is to fund "housing, practical help, counseling, emotional support and life skills training for young pregnant women who are homeless." Which is all well and good, but as the Guardian reported, critics of the allocation have pointed out that the grant doesn't adequately serve the U.K.'s most disadvantaged women.
"While we appreciate the work Life does to support homeless pregnant women and care for children with life-limiting or terminal illnesses," said Sophie Walker, leader of the Women's Equality Party, "we are very disappointed to see the allocation of such significant funds to this one charity while many others struggle, particularly those supporting black and minority ethnic women and disabled women who experience some of the highest rates of violence against them and yet are consistently at the bottom of the list for funding."
Life, for its part, was pleased with the grant, saying in a statement to the Guardian that its "support services for women are not a luxury but are essential for them to have the space to look at options for continuing their pregnancies with support."