Activists threw a queer dance party outside of Ivanka Trump's DC home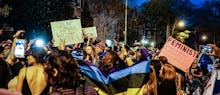 The LGBTQ community made a house call to Ivanka Trump Saturday night, as activists took to the Washington, D.C. streets in defense of climate change and equal rights.
In response to President Donald Trump's recent executive order rolling back Obama-era climate change protections, activists held the Queer Dance Party for Climate Justice in front of the first daughter's home in D.C.'s Kalorama neighborhood. The event was organized by queer activist collective WERK for Peace, the Huffington Post noted, along with the organizations 350 DC, Queer Resistance and the Trans Women of Color Collective.
Secretary of State Rex Tillerson lives near Ivanka Trump as well, something the protest's Facebook event page noted.
"It's time to WERK for Mother Earth," the event page reads, describing the protest, which began with a march down Connecticut Avenue from Dupont Circle, as a way to "send the clear message that our climate and our communities matter."
"The entire Trump administration has shown a blatant disregard for our planet and its inhabitants, like paving the way for the Dakota Access Pipeline displacing the Standing Rock Sioux Tribe. The reality is that the people most affected by the administration's bad climate decisions are our most vulnerable friends: our poor, working class, native, trans and POC siblings," the event description continues.
"We must put our bodies on the line for our Earth and for all who depend on its resources."
The boisterous dance-party protest attracted a large crowd Saturday night — although the woman of honor may not have been in attendance. Ivanka Trump was spotted on Friday in New York City, the Daily Mail reported.
Saturday's protest was seemingly not greeted warmly by all of the first daughter's neighbors, who are already reportedly less than enthusiastic about Trump's presence in the neighborhood. The Daily Mail reported an 82-year-old neighborhood resident allegedly confronted a protester and said "Do you want to get your f**king face hit? Get out of here!"
Police officers told WUSA 9 that the protest had ended peacefully, however, and the group later marched back to the event's starting point at Dupont Circle.
"The Republican party at large and specifically the administration should know that the queer community and the queer and trans community are watching," one of the protesters, Firas Nasr, told WUSA.