Donald Trump nearly met with alleged Russian mafia kingpin Alexander Torshin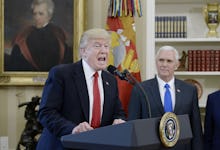 President Donald Trump abruptly canceled a February meeting with Alexander Torshin, a high-ranking Bank of Russia official, after an aide belatedly noticed Spanish authorities have accused Torshin of laundering cash for organized crime syndicates, Yahoo reported.
According to the Yahoo report, Torshin made it all the way onto the guest list for the Feb. 2 National Prayer Breakfast before a White House national security staffer flagged other administration members to Torshin's "baggage." Administration staff only informed Torshin the meeting was being called off the night before the event.
Spanish investigators believe Torshin is a highly ranked member of Russia's Taganskaya crime syndicate and may in fact be its leader. Spanish paper El Pais reported on Sunday that Torshin possibly evaded a 2013 sting operation in Mallorca because Russian authorities tipped him off.
According to Bloomberg, the barely-avoided meeting is not his first run-in with Trump. Torshin has well-established U.S. political connections and claims to have met with Trump personally before; in May 2016, he dined with the president's son, Donald Trump Jr., at a National Rifle Association convention.
While a meeting with an alleged Russian mafia kingpin would be bad optics for any presidential administration, Trump could probably afford to vet his calendar a little more closely given the FBI's ongoing investigation into whether his campaign illegally colluded with the Russian government to win the election. Trump, however, has endured his own allegations of mafia ties stemming from his past career as a real estate developer and casino owner.