Gay men are reportedly being arrested, killed in Chechnya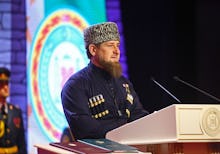 Authorities are rounding up and killing gay men in the Russian-controlled region of Chechnya, according to a report from a Russian paper, covered by the New York Times. 
Novaya Gazeta reportedly spoke with federal Russian authorities, who confirmed that local law enforcement was detaining closeted gay men "in connection with their nontraditional sexual orientation, or suspicion of such." The paper named three murder victims, and made the educated guess that there had been many more, as more than 100 men have been arrested so far.
According to the New York Times, the round-up is the Chechen government's response to a gay rights group's effort began applying for parade permits in the North Caucasus. Filing applications with the expectation that they would be denied, GayRussia.ru wanted to highlight a pattern of discrimination. But the area, which is heavily Muslim, is vehemently anti-LGBTQ rights, so much so that just filing a petition led to outrage. 
In the Times' words, "Mr. Putin [Vladimir Putin, Russia's president] has empowered local leaders to press agendas of traditional Muslim values," conducting sweeps to arrest gay men, most of whom were catfished by Russian authorities lurking on social networking platforms.
Alvi Karimov — a spokesperson for Ramzan Kadryov, head of the Chechen Republic — said the report was "absolute lies and disinformation," according to the Times. He explained that the arrests couldn't have happened because "you cannot arrest or repress people who just don't exist in the republic." 
Russia is infamously inhumane on the subject of homosexuality. In 2013, the country banned "propaganda" promoting "non-traditional sexual relationships," which is to say, the portrayal of gay couples in the media. In 2015, parliament toyed with the idea of outlawing "the public expression of non-traditional sexual relations, manifested in a public demonstration of personal perverted sexual preferences in public places," or being openly gay in public. 
According to the Times, anti-LGBTQ sentiment is particularly strong in the Caucasus: "Of course, none of these people [the men arrested] in any way demonstrated their sexual orientation publicly," Novaya Gazeta reportedly wrote. "In the Caucasus, this is equal to a death sentence."