Donald Trump on Marine Le Pen: "I don't know her"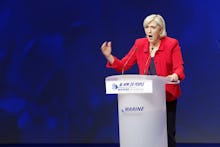 President Donald Trump does not know (or does not want to admit he knows) one of his most famous international counterparts.
In an interview with the Financial Times on Sunday, the president freely offered up a statement indicating he had no idea who Marine Le Pen is.
Yes, that Marine Le Pen, the French far-right leader of the National Front whose ascent in the imminent French presidential elections is rattling the entire European political establishment and inspiring lots of comparisons to Trump himself.
Trump also couldn't resist hinting at allegations Russian intelligence assets are colluding with Le Pen, despite looming FBI, House and Senate investigations into whether Trump did just that.
"I don't know what is going to happen," Trump told the Times. "I know that some outside distractions have taken place which have changed that race. That's going to be an interesting race. I really don't know and I don't know her. I have never met her." 
"It's going to be a very interesting election," he added. "But you know some outside things have happened that maybe will change the course of that race."
So to summarize: Trump doesn't know who Marine Le is (just like he supposedly didn't know who David Duke or the Ku Klux Klan were). But he's happy she's benefiting from unspecified "outside distractions."
Nothing shady there.
Le Pen has in fact visited Trump Tower, the president's New York skyscraper, though rumors she actually met him turned out to be false. While she eagerly compared herself to Trump earlier in the French elections, Trump's plummeting poll numbers have apparently inspired her to distance herself from the president in recent weeks.