Report: Jared Kushner is in Iraq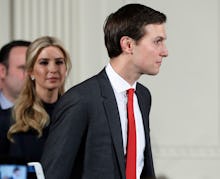 Jared Kushner, son-in-law and senior aid to President Donald Trump, made a surprise trip to Iraq over the weekend, one unnamed official told the Associated Press.
Little was known about why Kushner, accompanied by the chairman of the Joint Chiefs of Staff, Joseph Dunford, had made the visit, aside from the fact that he "wanted to see the situation in Iraq for himself and show support for the Iraqi government," according to the official.
The 36-year-old husband of Trump's eldest daughter, Ivanka, has become an increasingly prominent arm of the president's foreign policy initiatives. 
Despite having no diplomatic experience of his own, Kushner has been a key player in U.S. talks with Mexico amid Trump's promises to "build a wall," and also once received vague marching orders from the president to somehow broker a peace deal between Israel and Palestine.
Last week, it was announced that Kushner will head up the Office of American Innovation, a task-force devised by Trump to use business-minded solutions to evade Washington bureaucracy in order to accomplish more of his first term agenda.