Somali pirates hijacked an Indian commercial ship with 11 sailors onboard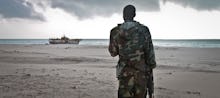 Pirates hijacked an Indian commercial ship off the coast of Somalia on Monday, the second attack of its kind in just a few weeks after a period of nearly five quiet years.
According to Reuters, the United Kingdom Maritime Trade Operations, which tracks all merchant ships sailing the waters where the Indian vessel was taken, confirmed the hijacking.
Although India's ministry of external affairs could not immediately confirm the attack, Abdirizak Mohamed Dirir, a former director of an anti-piracy agency in Somalia's semi-autonomous Puntland region, said that the hijacking was happening.
"We understand Somali pirates hijacked a commercial Indian ship and (it is heading) toward Somalia shores," he told Reuters.
Graeme Gibbon-Brooks of U.K.-based Dryad Maritime Security told Reuters that the pirates planned to take the 11 hostages to Eyl in Puntland.
Last month, pirates commandeered an oil tanker with eight Sri Lankans on board before releasing it without a ransom upon learning that it had been commissioned by Somali businessmen.
Somalia is currently in the midst of a devastating famine caused by severe drought conditions and war.