North Korean defector warns Lester Holt of country's increasing nuclear competence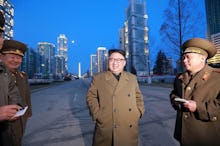 During an interview with NBC News' Lester Holt on Sunday, a high-profile North Korean defector warned the United States that dictator Kim Jong Un's regime is not only nuclear-capable, but possibly poised for attack.
Thae Yong Ho, who fled to South Korea with his family in August after serving as North Korea's deputy ambassador to the United Kingdom, said the rogue state "has reached a very significant level of nuclear development."
"If Kim Jong Un has nuclear weapons and ICBMs, he can do anything," he told Holt. "So, I think the world should be ready to deal with this kind of person."
Based on the most recent intelligence, U.S. officials currently believe that North Korea has somewhere between 8 and 10 nuclear weapons. The country's recent tests of intercontinental ballistic missiles are also cause for concern.
"Once [Kim] sees that there is any kind of sign of a tank or an imminent threat from America, then he would use his nuclear weapons with ICBM," Thae added.
Adm. Scott Swift, commander of the U.S. Pacific Fleet, told NBC News that officials remain vigilant in the wake of the North's most recent missile tests.
"They have the nuclear capability — they've demonstrated that," he said. "And then, where they're going with the miniaturization of that, whether they can actually weaponize a missile, that's what's driving the current concern."