Will there be a 'Big Little Lies' season 2? Here's why it's a bad idea.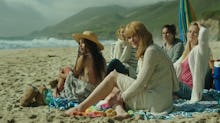 Big Little Lies ended its run in triumphant fashion Sunday night, wrapping up with a seventh episode that was deeply satisfying. It diverted just enough from Liane Moriarty's source material while remaining true to the heart of the book. It was the kind of finale that inspires calls for the series to earn scores of Emmys come September.
Yet of course, because this is the age of Peak TV, there are already cries for a second season; this despite the fact that the source material is depleted. For what it's worth, director Jean-Marc Vallée seems pretty uninterested in a second season, and stars Reese Witherspoon and Laura Dern have only mentioned the possibility in passing. If they're smart, HBO will listen to Vallée and stay far away from season two, no matter how great the ratings for the limited series have been.
Big Little Lies was a triumph. But sometimes, you have to let truly great things — even just some very good things, frankly — end.
(Editor's note: Spoilers ahead for Big Little Lies, as well as Netflix's 13 Reasons Why and Gilmore Girls: A Year in the Life.)
The biggest issue with continuing Big Little Lies, besides reassembling this high-powered, all-star cast for another run, is that Moriarty's novel is all but exhausted. There were some epilogue elements unused — Bonnie's confession to killing Perry, Celeste starting work as an advocate for abuse victims — but Vallée wisely chose to go with a less literal ending, focusing on the women bonding on the beach with their kids.
Interestingly, however, the series closed with the lead detective on Perry's murder watching the women from afar. If you wanted to make a sequel season, it's easy enough to conceptualize: Merrin Dungey's detective becomes a major character trying to unravel the core five women's lies. But for a show that mostly treated the murder as a tertiary story, such a strong shift toward that plot in season two would feel inorganic at best and disastrous at worst.
While David E. Kelley wrote the miniseries, he was elevating Moriarty's work, bringing with it specific and powerful observations about the bonds between women. It's possible bringing in another female writer or director could produce similar results for season two, but without the core source material, that feels like a gamble not worth taking — one that could just wind up ruining Big Little Lies' sterling reputation.
Similarly, Netflix's 13 Reasons Why, which dropped on the streaming service Friday, ends with an ostensible sequel hook. In Jay Asher's original novel, the ending sees protagonist Clay Jensen reaching out to a depressed friend and trying to prevent what happened to the girl he loved, Hannah Baker, who committed suicide.
The Netflix adaptation ends much more dynamically, with Jay successfully getting jock Bryce Walker to confess to raping Hannah, then delivering that confession on tape — along with the rest of the tapes Hannah made before she died detailing her "reasons" for killing herself — to school counselor Mr. Porter. (Porter himself is the 13th reason why.) Additionally, there's a question of how Alex Standall, another one of the reasons, wound up shot in the head and in critical condition. Did he shoot himself, or did his classmate Tyler Down shoot him instead?
All these questions are meant to inspire speculation for season two. However, like with Big Little Lies, the source material is depleted. Granted, the 13 Reasons Why writing team took more liberties with the material than Kelley did with his series, but it still feels ill-advised to extend a story that has completely fulfilled its title and mission statement. Yet the cast and Asher are happily speculating about what a second season would look like.
The speculation is reminiscent of how creator Amy Sherman-Palladino won't definitively close the door on making more Gilmore Girls after her revival miniseries Gilmore Girls: A Year in the Life. Last month, Netflix's chief content officer Ted Sarandos admitted there are actual talks about making season two of A Year in the Life happen. And yes, the cast isn't ruling it out, either.
Unlike Big Little Lies and 13 Reasons Why, Gilmore Girls is an original property, and thus doesn't have source material to use up. But what A Year in the Life did have was the powerful, inspirational spirit of Richard Gilmore — as played by the late Edward Herrmann — helping to center each of the three Gilmore women's stories. Another season would lack such a strong driving force, and would make the flaws harder to ignore.
With all three of these shows, though, the central problem is the same: Too much of a good thing can be terrible. Big Little Lies is a much better show than either 13 Reasons Why or Gilmore Girls: A Year in the Life, but all three have merits that would be diminished by further extension of the brand.
So while it's tempting to turn Big Little Lies into a regular drama series, or to make it an anthology with new movie stars every season, the time has come to let it — along with Gilmore Girls, 13 Reasons Why and other shows built for only one season — to come to an end. It's difficult to say goodbye to something beloved, but there will always be new projects — Sherman-Palladino's The Marvelous Mrs. Maisel, for instance, or Vallée's Sharp Objects adaptation — that deserve our love instead.
Mic has ongoing Big Little Lies coverage. Please follow our main Big Little Lies hub here.