Pink gets real about post-baby weight loss on Instagram: "Stay off that scale ladies"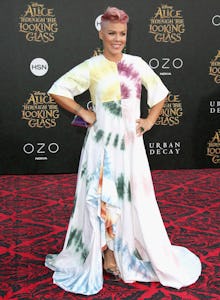 The musical artist simply known as Pink has a message for new moms: Stay off that scale. How much weight you lose, and how quickly you lose it, really doesn't matter. 
To prove that point, Pink, who just had her second baby in late December, posted an Instagram picture on Sunday of herself at the gym, along with a strikingly honest and body-positive message for her fans. 
"Would you believe I'm 160 pounds and 5'3"?" she wrote. "By 'regular standards' that makes me obese. I know I'm not at my goal or anywhere near it after Baby 2 but dammit I don't feel obese." 
In fact, she feels great. 
"The only thing I'm feeling is myself. Stay off that scale ladies!" she concluded. 
With so many celebrities hawking things like weight loss tablets and "revenge bodies," Pink's message comes as a welcome surprise. It also appears to have struck a nerve with her followers on Instagram, gaining 230,000 likes and counting. 
"Girl, I needed to hear this, this gives me life!!! Struggle is real after a baby," one commenter wrote. Another: "I was just about to weigh myself after giving birth just over 5 weeks ago, knowing I'd dread the sight of that damn number. Saw an article about your post so won't bother know."
In a world wholly obsessed with celebrities losing weight as soon as possible after having a baby, this feels like a message that should be heard by everyone.