When will 'Walking Dead' season 8 premiere? Here's what we know.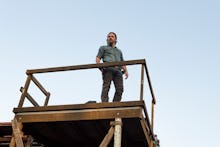 The season seven finale of The Walking Dead started the long-awaited war between Alexandria and the Saviors, which included a tragic character death and a CGI tiger on the prowl. So yes, things went down — no cliffhangers were involved! — and it's safe to say fans will be looking forward to season eight. But when should we expect the new season? 
If previous seasons are any indication, an October 2017 premiere date would be the best bet. In fact, if you were watching AMC during the finale's telecast, you would've heard those assurances from the network's surly narrator, who informed viewers than The Walking Dead will be returning in October. A more formal announcement from AMC will likely happen over the summer, perhaps once the spinoff series Fear The Walking Dead makes it return in June. 
As for what fans should expect in season eight, The Walking Dead showrunner Scott Gimple has already built it up as "intense," along with some other creative vocabulary. 
"Every year you ask me that question," Gimple said on Talking Dead, AMC's Walking Dead after-show, according to Entertainment Weekly. "I say it's going to be bigger, it's going to be more intense. I say these things and I've meant them every year and I think we've actually accomplished that. This year, same thing. More intense. The first four episodes will melt people's minds and break their televisions." 
That's some lofty expectations for the new season, but if season seven's finale is any indication, they may be able to deliver on it. We'll keep you updated if anything changes, but for now, get ready for The Walking Dead to return in October. 
It's kind of a long wait, right? Well, here's the clip of Shiva saving Carl's life and killing some Saviors for your troubles: 
Mic has ongoing coverage of The Walking Dead. Follow our main Walking Dead hub here.