Who is Fazlur Rahman Khan? Google Doodle honors Bangladeshi architect and designer.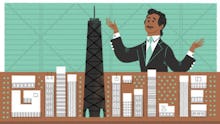 Monday's Google doodle paid tribute to Fazlur Rahman Khan, a pioneering architect, designer and humanitarian who immigrated to the United States and helped to build some of America's tallest, most recognizable skyscrapers. Monday would have been his 88th birthday.
As Khan's daughter, Yasmin Sabina Khan, wrote for Google's official description of the day's doodle, her father was born in East Bengal, British India, which would later become East Pakistan and then Bangladesh.
He came to the U.S. as a student and then went to work at the famous Chicago architecture firm Skidmore, Owings and Merrill, where he designed the Willis Tower — formerly known as the Sears Tower — which was, for many years, the tallest building in the world.
Khan was also a Muslim, a father and a firm believer, according to his daughter, that his work had the power to change to world for the better. 
Just after his death in 1983, Khan was honored with an award from the American Institute of Architects. In the nomination, the jury that selected him wrote, "Rarely has any engineer played as key a role in the shaping of architects' ideas and the shaping of buildings themselves."