'Heroes of the Storm' 2.0 Skins: Here are the new skins coming in the big HOTS update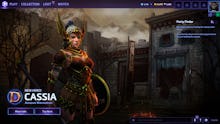 Blizzard's MOBA — short for "multiplayer battle arena" — Heroes of the Storm is getting a major overhaul in the very near future through an update simply called Heroes of the Storm 2.0. It's introducing an Overwatch-like loot box system, the new character Cassia and a whole bunch of new cosmetic skins.
The update is still in beta testing, so we've rounded up all the skins that will be available once Heroes of the Storm 2.0 releases on April 25.
Heroes of the Storm 2.0 skins
If you want an overview of the way Heroes of the Storm will look once the 2.0 update goes live, check out the video below. Starting at the 3:00 mark, you can see the updated menu for skins.
If you want detailed images of every single new skin Blizzard is adding, check out Frontseat Gaming's roundup of images.
Heroes of the Storm 2.0 will be available April 25.
More gaming news and updates
Check out the latest from Mic, including our deep dive into how female Overwatch players are dealing with online harassment, an article about a fan movement advocating for more same-sex romance options in Mass Effect, a cool making-of video for Legend of Zelda: Breath of the Wild and an article about what a Bechdel test for gaming might look like.