Lena Dunham talks about "gut-wrenching" episode 8 of 'Girls' and Jemima Kirke's moment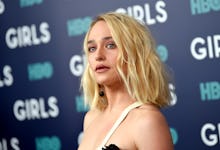 Jemima Kirke had a moment in season six, episode eight of Girls. 
(Editor's note: Spoilers for Girls season six, episode eight below.)
Kirke, who plays Jessa, was reeling after Adam leaves her — momentarily — to return to Hannah. With Hannah being pregnant, he felt the need to offer his assistance. The two try to reconnect but it ultimately doesn't work out. Adam returns home to Jessa at the end of the episode, but she wasn't waiting for him the entire time. 
Jessa goes out on her own. She makes her way to a bar and she's on a mission. Set to Ariana Grande's "Dangerous Woman," Jessa hints at a fellow bar patron to follow her to the bathroom. The two have sex and Jessa breaks down after. It's a heart wrenching moment, and Lena Dunham took to Instagram to congratulate her friend and co-star on the powerful scene. 
"There is so much I could say about last night's episode," Dunham began her caption. 
"That scene in the bar bathroom with the amazing Neal Huff, set to @arianagrande's Dangerous Woman (saddest pop music usage ever?) is one of the rawest and most tragic things we've ever shot," she continued. 
Dunham went on to praise her friend, adding that she'll miss being able to force her into ridiculous outfits. "Jem held nothing back, just like she's held nothing back since we met in the girl's room in 1997. I'll miss being able to force her into mohair bikini tops. I'll miss it all," she wrote. 
It seems the cast of Girls is already beginning to miss the show — and so are we. 
Mic has ongoing Girls coverage. Please follow our main Girls hub here.