'Pokémon Go' APK 0.61.0: What's new in the latest update?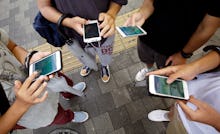 Along with a nest migration on April 6, Pokémon Go fans have just been treated to a new APK — short for Android application package — for the game as well. That's APK 0.61.0 to be exact. 
A new Pokémon Go APK means a new data mine from the industrial folks online. It also means new hints about what's to come for the game.
The details from APK 0.61.0 are below if you'd like to see what changes have been implemented in the game, and what changes are currently being seeded in the game's code.
Pokémon Go APK 0.61.0: Chinese language support and other minor fixes
Unfortunately, much like previous APK 0.59.1, there aren't a whole lot of new features being added to the game in 0.61.0, according to Pokémon Go Hub. Aside from the usual small text and bug fixes, one of two bigger ticket items for the latest change log was that Niantic had updated the scroll bar in the Pokémon selection screen.
Additionally, 0.61.0 promises "added Traditional Chinese Language support." This is interesting because China banned Pokémon Go and showed no signs of lifting the ban as little as three months ago. There's a chance Niantic is simply adding this support so other countries that use Traditional Chinese are able to play the game, but without more information, it's probably too soon to start making suppositions.
Pokémon Go APK 0.61.0: Graphical updates and redeemable codes
As usual, the more interesting part of any APK is what's uncovered in the data mining, and 0.61.0 is no different. Pokémon Go Pocket's data mine uncovered more information regarding the "redeemable codes" we saw being teased — inadvertently, this is a data mine — in 0.59.1.
In particular, Pokémon Go Pocket reported that avatar items, candy, Stardust and PokéCoins and a few other items have redeemable codes. What 0.61.0 tells us is that codes are redeemed using the in-game shop and that there are different types of redeemable codes as well, and we might be seeing them soon.
According to the data mine, Niantic is also prepping in-game notifications and these will come in the form of announcements, events and promotions currently active in the game.
Finally, the data mine shows a continued update to the sky graphics in Pokémon Go. Since Niantic keeps tinkering with the code, it's possible that we might see more weather effects continue to roll out in the coming months.
More Pokémon Go news, updates, tips and tricks
Check out Mic's Pokémon Go guides on how to get stardust, how to determine how long it will take you to reach level 40, the kind of Pokémon you get from 10km eggs, how to create new PokéStops, how to maximize your chances of catching Pokémon and how PokéStops distribute Pokémon eggs. Also check out how to catch Gen 2 baby Pokémon, our analysis of post-balance update Chansey and Rhydon and everything you need to know about finding the long-awaited Pokémon Ditto.