'Persona 5' Shiisaa Persona Guide: How to create the Shiisaa Persona in Persona 5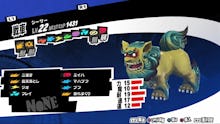 Persona 5 is officially out in the U.S. By now, you should have named your main character and you should be well on your way to ranking up with your confidants and meeting some new Personas for you and your party to use in battle. However, some of these Personas can't be attained through negotiation. The Foo Dog Shiisaa is one of these.
Persona 5 Shiisaa Persona guide: How to make the Shiisaa Persona using fusion
According to a list compiled by a reddit user named Chinhodado, there are 67 combinations you can use to make Shiisaa, a Persona in the Chariot Arcana. Of all of them, the easiest (and cheapest) combination is to use Regent and Slime.
Alternatively, if you combine Jack Frost and Makami (both of which can be found in the back half of the second palace, according to users on GameFAQs), you'll create a Shiisaa with the "Frei" ability. 
Paste magazine tells us this just so happens to be the specific Shiisaa you need to show to Justine and Caroline, the wardens of the Velvet Room, in order to level up their confidant arcana (Strength). If you've been looking to complete that task, this is that specific Shiisaa.
Persona 5 Shiisaa Persona guide: What are Shiisaa's stats?
If you're looking to make a place for Shiisaa in your Persona roster, Samurai Gamers has a look at Shiisaa's stats and abilities. It comes with three innate active skills:
Double Fangs, which costs 10% of your HP to use, but deals physical damage to one foe twice.
Shiisaa learns three more skills as it levels up:
Rampage, which it learns at level 18, costs 13% of your HP but strikes all foes in battle anywhere from one to three times. Big risk, big reward.
Between the hard-hitting damage and the increased chance to evade electric attacks, Shiisaa's abilities are a solid addition to any Persona player's rotation.
More Persona 5 news, updates, tips and tricks
For more on the latest entry in the Persona series, check out the rest of what Mic has to offer. Here's a guide to building relationships with the game's Confidant system, and a guide to when and how you can name your main character.