'Pokémon Go' Nest Migration 18: How to track changing spawn locations after the update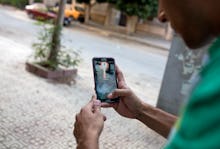 Just as we predicted yesterday April 5, the 18th Pokémon Go nest migration has occurred. This means you have two weeks to find out what migratory Pokémon are spawning in your area and make the most out of them to fill up your Pokédex and get strong attackers for taking and holding gyms.
Pokémon Go Hub has confirmed the nest migration has occurred, and certainly a Silph Road post is sure to follow shortly. If you're looking for how to check those ever-ephemeral migratory Pokémon nests, we've got you covered.
Pokémon Go nest migration 18: Where to check your new nest spawns
As per usual, you can check what Pokémon are showing up where post-migration by using the Silph Road's Global Nest Atlas, which is currently pretty sparse because of the fortnightly shake-up. If you'd like to help fill out the atlas quickly, you can register a Reddit account with the Silph Road subreddit and start logging where you notice certain Pokémon spawning. If you're not so inclined, the Global Nest Atlas should already have some confirmed nests for you if you're itching to start filling out that Pokédex.
Additionally, if you're looking to commiserate about unlucky nest changes, there are a number of city-specific subreddits you can browse as well. You can also post in the general nest migration update thread in the Silph Road subreddit as well.
You've got two weeks before these spawns change up again, so make them count. Good luck and happy hunting. 
More Pokémon Go news, updates, tips and tricks
Check out Mic's Pokémon Go guides on how to get stardust, how to determine how long it will take you to reach level 40, the kind of Pokémon you get from 10km eggs, how to create new PokéStops, how to maximize your chances of catching Pokémon and how PokéStops distribute Pokémon eggs. Also check out how to catch Gen 2 baby Pokémon, our analysis of post-balance update Chansey and Rhydon and everything you need to know about finding the long-awaited Pokémon Ditto.