'Mass Effect: Andromeda' Gil Romance Guide: How to flirt with the engineer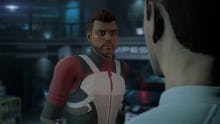 Unlike real life, it's fun to date in Mass Effect: Andromeda. With its quirky cast of characters, the romance options are really what make the game. 
But if you're into making virtual boys kiss, your options are a bit limited. Aside from Reyes, you have only one other character to romance — Gil, the mischievous engineer. 
In fact, Gil is only available to date when you're playing as the male Ryder. So, if you're interested in making your gay dreams come true, look no further. 
Romance Gil Brodie in Mass Effect: Andromeda
Lucky for Ryder, Gil is pretty much always available to talk. Romancing Gil definitely isn't difficult. In fact, you won't have to do anything aside from the main story line to progress your relationship with him.
Simply find Gil in the engineering area — the place he'll be most of the game — and choose the romance option from the dialogue provided. 
According to SegmentNext, the first line should read something like "I'll do more than show up." Then you're off! Keep up the flirting and when you get back from Hunting the Archon mission, Gil will be ready to settle down.
More Mass Effect: Andromeda news and updates
For more on everyone's favorite space opera, check out the rest of what Mic has to offer. Here's an essay on the troubling history of colonialism in Mass Effect, a story about the horrifying harassment campaign carried out against a former BioWare employee, a look at the #MakeJaalBi fan movement and an overview of the historic lack of gay romance options in Mass Effect.