Trump-tied businessmen met NSC officials, Bannon over Venezuela sanctions, sources say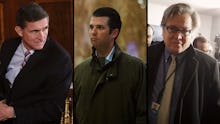 Five days before the resignation of National Security Adviser Michael Flynn, a pair of American businessmen with ties to President Donald Trump's family attended a series of previously unreported meetings at the White House with the aim of convincing the United States to lift sanctions against Venezuela, according to two sources with knowledge of the matter.
Mic reviewed documents indicating the businessmen were Gentry Beach, a billionaire Dallas financier, and Wadie Habboush, an international investor. Both men have ties to Donald Trump Jr., but Beach is particularly close: He is a longtime friend of the president's son and was a major Trump campaign fundraiser.
Government ethics lawyers and policymakers who served in recent Democratic and Republican administrations say meetings between White House national security officials and campaign fundraisers over foreign policy violate NSC protocol and raise serious ethical concerns.
"If this account is true, it raises serious questions about the conduct of foreign policy by the Trump administration," said Mark Feierstein, who served on the National Security Council during the Obama administration as senior director for Western Hemisphere Affairs. "Those meetings never should have taken place at any level, let alone with senior officials in the West Wing."
Richard Painter, who served as President George W. Bush's chief White House ethics lawyer, said, "The NSC's focus is supposed to be about security. They're not there to push the business community's agenda."
"In the Bush administration, if these types of meetings were set up, we would've said no," Painter said. "I would not have approved of this type of meeting."
The first of the meetings between Beach, Habboush and National Security Council officials took place on Feb. 8, according to one source with knowledge of the matter. Habboush presented senior NSC officials with a detailed plan to improve political relations with Venezuela and lift U.S. sanctions in exchange for opening up the South American country to potential business opportunities with U.S.-based companies.
The next day, Habboush returned to the White House and presented the plan directly to White House chief strategist Steve Bannon, the two sources said.
Habboush did not respond to multiple, detailed requests for comment made through his general counsel. Beach responded through his attorney, Jeff Liddle, who would neither confirm nor deny that Beach met with Habboush and NSC officials.
"Gentry has never had a business relationship with Donald Trump Jr. or the Trump family, nor with the Venezuelan government, or any aspect of it," Liddle said. "Nor with Wadie Habboush."
Liddle added, "He has never made a written or otherwise presentation to the National Security Council."
The NSC and the White House declined to comment in response to a detailed inquiry about the meetings. The Venezuelan government did not respond to requests for comment made to its embassy in Washington.
"Neither Donald Trump Jr. nor anyone else at the Trump Organization has had any involvement in arranging any meetings with anyone at the White House or any other government agency," said a spokesperson from Trump Organization in response to inquiries for Donald Trump Jr. "While Mr. Trump Jr. has known Mr. Beach for many years and campaigned together during the election, their relationship is strictly personal."
Mic spoke to several individuals with knowledge of the meetings, all of whom requested anonymity for fear of retaliation.
According to one of the sources, Beach and Habboush set up their meetings with NSC officials through deputy national security adviser K.T. McFarland. Beach's attorney confirmed that Beach and McFarland were acquainted. "He knows K.T. McFarland, only because they met at inauguration," Liddle said.
Once at the White House, Habboush presented NSC officials — and Bannon, a day later — with a detailed 10-point plan outlining a proposal to lift U.S. sanctions on the country, according to a source. Habboush told NSC officials he had met directly with Venezuelan President Nicolás Maduro and Foreign Minister Delcy Rodríguez prior to his visit, multiple sources confirmed. At one point, Habboush dialed Rodríguez and put her on the phone with an NSC official on the spot to demonstrate the legitimacy of his contacts with high-level Venezuelans, one source said.
Whether Trump himself or his eldest son knew about the meetings remains unclear.
The proposed changes to U.S. policy toward Venezuela have also not come to pass. Several days after the meetings, the U.S. Treasury Department announced a new round of sanctions on Venezuelan Vice President Tareck El Aissami for allegedly aiding drug traffickers.
However, that Beach and Habboush obtained access to senior NSC officials — and that Beach was a big-dollar fundraiser for the campaign — raised alarm among lawyers in the White House Counsel's office over possible conflicts of interest and ethics violations, according to one source with knowledge of the meetings, which another source confirmed.
Of specific concern is a longstanding personal relationship between Beach and the president's eldest son. Alongside Trump Jr. and fellow Dallas billionaire Tommy Hicks Jr., Beach raised millions of dollars for Donald Trump's presidential campaign. He served as a finance vice chair for Trump's inauguration committee. Beach is also a hunting buddy of Donald Trump Jr. and godfather to one of Trump Jr.'s sons.
Beach's hedge fund, Vollero Beach Capital Partners, was a multimillion-dollar equity fund focused on energy investments. In late 2016, it was absorbed by Citadel, one of the world's leading hedge funds. According to publicly available Nasdaq data, close to 50% of Vollero Beach Capital Partners' investments were in oil and gas companies.
In December, Beach's relationship to the Trump family came under scrutiny when a nonprofit he co-founded — and where Donald Trump Jr. and Eric Trump served as directors — was alleged to have solicited donations in exchange for access to the president at an inauguration event.
Habboush, an Iraqi-American businessman, is CEO of the Habboush Group, which specializes in energy and infrastructure investments. Earlier in his career, Habboush worked at Exxon Mobil, a company with a turbulent history in Venezuela, and whose former CEO Rex Tillerson is now secretary of state. Habboush's father, R.W. Habboush is chairman of the Habboush Group and donated more than $33,000 to the Republican National Committee in January 2017, according to FEC filings.
Habboush and the Trumps are also connected through at least one employee. In February, former Trump family chief of staff Lindsay Santoro began working in business development for the Habboush Group, according to her LinkedIn profile. Santoro previously served as an assistant to Donald Trump Jr. at the Trump Organization, in addition to managing staff for the Trump family during the presidential campaign.
It is not immediately apparent what Beach and Habboush would have gained from improved relations between the two nations had they successfully brought them about.
Revelations of Beach and Habboush's meetings come at a particularly tense moment in Venezuelan politics. Over the past week, protests have broken out after the Supreme Court, which is stacked with loyalists to President Nicolás Maduro, stripped away the National Assembly's legislative powers. On Saturday, the Court reversed that decision, but the move was denounced by the Secretary General of the Organization of American States as a "self-inflicted coup d'état" committed by Maduro's government.
In the face of these events, the relationship between the U.S. and Venezuela remains uncertain.
Bilateral ties between the countries worsened under President Barack Obama, who imposed sanctions on Venezuelan officials in 2014 after a government crackdown on protesters resulted in the death of 43 people. Venezuela, which has the world's largest oil reserves and is almost entirely reliant on oil exports, is on the brink of collapse, facing a crippling recession and soaring foreign debt resulting from low oil prices and mismanagement by its socialist government.
Maduro had hoped for a better relationship with Trump, even though the two traded jabs during the campaign. In a January interview, Maduro said of Trump, "He won't be worse than Obama."
But that statement came before the Treasury Department announced the new round of sanctions against Maduro's vice president. It was also shortly before Trump met in the Oval Office with Lilian Tintori, the wife of a top Venezuelan opposition leader who is currently imprisoned, and criticized the Venezuelan government on Twitter. (A day after Trump's tweet, the Venezuelan Supreme Court upheld Tintori's husband's 14-year sentence.)
Nonetheless, Maduro's public statements about Trump have been uncharacteristically soft for the Latin American firebrand — he has denounced the "brutal hate campaign against Trump all over the world." In an interview earlier this month, Maduro called the U.S. president "Comrade Trump" and told people to expect "surprises" in the relationship between the countries.
Norman Eisen, who served as Obama's ethics czar and now chairs the board of the Citizens for Responsibility and Ethics in Washington, a leading ethics watchdog, called for a deeper investigation to better understand exactly what transpired.
"We don't know enough to know whether any laws were violated," Eisen said. "This should be scrutinized. Let's have some transparency about what transpired here."
"President Trump promised to drain the swamp, but in fact he's flooded it," Eisen said. "The essence of the swamp is for campaign contributors who have relationships with presidential family members to gain high-level access to propose crazy policy ideas that would line their own pockets."