Tyra Banks is removing ANTM's age limit — but we still want for more plus-size models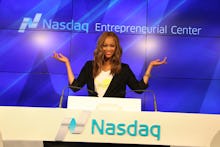 According to Tyra Banks, smizing no longer has an age limit. 
In a video posted on Banks' Instagram on Saturday, the model announced that with her coming back as host and head judge of America's Next Top Model, there'd be some changes. The first: There's no longer an age limit. 
"You know I've stood for diverse beauty, and erasing cookie cutters it terms of what is deemed beautiful," Banks said in the video. "There have been 23 cycles of America's Next Top Model, and every single cycle we say you have to be 27 years old or younger. You know what I hear all the time? 'Tyra, come on. Why have an age limit?' So you know what? I'm taking that age limit off."
"You want to audition for America's Next Top Model?" Banks continued. "I don't care how old you are, honey. You just need to know how to smize and be open to learning how to work the runway like a supermodel." 
The removal of the age limit feels like a huge step towards inclusivity on the show. ANTM has always had a diverse lineup of models, including transgender model Isis King and models with disabilities like Nyle DiMarco, who is deaf, and Amanda Swafford, who is legally blind. There's even been Chantelle Brown-Young, a model with vitiligo. 
Now with this age limit gone, there's hope that older models will get some respect on the show too. 
But if we're talking about ANTM's progressiveness here, there is a bit of an elephant in the room. Despite becoming a platform for models of color, transgender models and disabled models, plus-size models have notoriously been either treated badly or shunned on the show. 
In cycle three, there was Toccara Jones, who was repeatedly treated poorly at photoshoots. In cycle four, one model, Keenyah Hill, was notoriously fat-shamed by Banks and the other judges. And there's only been one plus-size ANTM winner: Whitney Thompson from cycle 10. Considering the fact that most American women are plus-size and plus-size models have made huge strides lately, their treatment on the show remains surprising. 
This past season, despite Ashley Graham joining the show as a judge for the VH1 reboot, there were no plus-size contestants. It had been easy to imagine that, with Graham's role and the widespread discussion of body diversity happening on the internet and in magazines, ANTM might step it up. Alas, they stuck to the safe and familiar.
We are certainly not the first to point out ANTM's lack of plus-size contestants. Orange Is the New Black actress Danielle Brooks called out the show explicitly in December, writing on Instagram: "As a plus woman being seen only 1% of the time is a real thing," she wrote. "After watching #ANTM last night I was super excited to see my girl Ashley Graham but bummed out not to see any plus contestants." 
"A curvy judge but no curvy contestants?" Brooks continued. "Out of all 28 girls not one was plus. You had an Asian, African, a redhead, transgender, an androgynous sister, even twins... (much love for that) but not one plus size woman — when 67% of women are plus in the US??"
Indeed, with its massive fanbase, ANTM could very well could play a huge role in ensuring people seeing plus-size women in fashion and understand the struggles they go through. But rather than include them, ANTM has a history of turning the other way. 
While removing the age limit certainly means that more people will hopefully see people like themselves this upcoming season, we're still waiting for curvy models to get their due.