Here are the US movie theaters screening '1984' in anti-Trump protest on Tuesday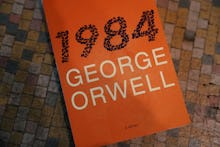 On Tuesday, April 4, independent cinemas around the country will stand against Trump by screening 1984, the film adaptation of George Orwell's 1949 novel starring John Hurt and Richard Burton.
The iconic dystopian tale centers on Winston Smith, a government worker tasked with distorting history and facts — sound familiar? — who rebels against the tyrannical government by committing the crime of starting a diary. The April 4 screenings will mark the day Winston's diary entries began.
"Orwell's portrait of a government that manufactures their own facts, demands total obedience and demonizes foreign enemies has never been timelier," participating theaters said in a joint statement. 
"The endeavor encourages theaters to take a stand for our most basic values: freedom of speech, respect for our fellow human beings and the simple truth that there are no such things as 'alternative facts.'"
The April 4 screenings will also include a filmed introduction and post-screening interview with director Michael Radford, who will relay stories about the movie's creation and discuss how Orwell's novel remains relevant today, according to Variety.
A portion of the proceeds from each screening will go towards local charities and causes, the cinemas' statement notes.
Here are the independent theaters that will be screening the film throughout the United States. A listing of participating international cinemas can be found here.
Alabama
Capri Theatre (Montgomery)
Alaska
Gold Town Theater (Juneau)
Arizona
Alamo Drafthouse Chandler (Chandler)
FilmBar (Phoenix)
Loft Cinema (Tucson)
Arkansas
Riverdale 10 VIP Cinema (Little Rock)
California
Art Theater (Long Beach)
Plaza Playhouse (Carpinteria)
Arena Theater (Point Arena)
Balboa Theater (San Francisco)
The Cinefamily (Los Angeles)
Community Media Access Collaborative (Fresno)
Davis Varsity (Davis)
Digital Gym Cinema (San Diego)
El Rey Theater Alliance (Chico)
Empress Theatre (Vallejo)
The Frida Cinema (Santa Ana)
Lark Theater (Larkspur)
The Miniplex (Arcata)
Osio Theater (Monterey)
Palm Cinema (San Luis Obispo)
Santa Monica Public Library (Santa Monica)
The State Theatre (Modesto)
New Parkway (Oakland)
Regency Rancho Niguel (Laguna Niguel)
Regency Paseo Camarillo (Camarillo)
Rialto Cinemas (Berkeley)
Rialto Cinemas (Sebastopol)
Scotts Valley Public Library (Scotts Valley)
UCLA Film & Television Archive and the Hammer Museum (Los Angeles)
Tristone Palm Desert 10 (Palm Desert)
UC San Diego Library (La Jolla)
Varsity Theatre (Davis)
Yerba Buena Center for the Arts (San Francisco)
Colorado
Chief Theater (Steamboat Springs)
International Film Series (Boulder)
Sie FilmCenter (Denver)
The Sunflower Theatre at KSJD (Cortez)
Connecticut
Avon Theatre Film Center (Stamford)
Cinestudio (Hartford)
Henry Carter Hull Library (Clinton)
Madison Art Cinemas (Madison)
Real Art Ways (Hartford)
Yale Film Colloquium (New Haven)
Florida
All Saints Cinema (Tallahassee)
Burns Court Cinemas (Sarasota Film Society) (Sarasota)
Cinema Paradiso (Hollywood)
Coral Gables Art Cinema (Coral Gables)
Movies of Lake Worth (Lake Worth)
Miami Beach Cinematheque (Miami Beach)
O Cinema Wynwood (Miami)
Savor Cinema (Fort Lauderdale)
Silverspot Cinema (Coconut Creek)
Silverspot Cinema (Naples)
Stonzek Theatre of the Lake Worth Playhouse (Lake Worth)
Sun-Ray Cinema (Jacksonville)
Georgia
Cine (Athens)
Hawaii
Doris Duke Theatre/Honolulu Museum of Art (Honolulu)
Illinois
Wilmette Theatre (Wilmette)
Indiana
Art Theatre (Hobart)
Cicada Cinema (Bloomington)
Cinema Center (Ft. Wayne)
Ohio Theatre (Madison)
Iowa
FilmScene (Iowa City)
The Orpheum Theater (Fairfield)
Kansas
Liberty Hall (Lawrence)
Kentucky
Kentucky Theatre (Lexington)
Speed Art Museum (Louisville)
Louisiana
Robinson Film Center (Shreveport)
The Broad Theater (New Orleans)
Maine
Center Theatre (Dover-Foxcroft)
The Gem (Bethel)
Railroad Square Cinema (Waterville)
Maryland
Harford County Public Library (Havre de Grace)
Old Greenbelt Theatre (Greenbelt)
Massachusetts
Academy of Music Theatre (Northampton)
Beacon Cinema (Pittsfield)
Images Cinema (Williamstown)
The Luna Theater (Lowell)
Regent Theatre (Arlington)
South Hadley's Tower Theaters (South Hadley)
TCAN - THE CENTER FOR ARTS IN NATICK (Natick)
The Cape Ann Cinema & Stage (Gloucester)
The Brattle Theatre (Cambridge)
Triplex Cinema (Great Barrington)
Michigan
Wealthy Theatre (Grand Rapids)
Capital City Film Festival (Lansing)
Cinema Detroit (Detroit)
Michigan Theater (Ann Arbor)
The State Theatre (Traverse City)
Vickers Theatre (Three Oaks)
Minnesota
Film Society of Minneapolis St. Paul's St. Anthony Main Theatre (Minneapolis)
Sheldon Theatre (Red Wing)
Zinema 2 (Duluth)
Missouri
Alamo Drafthouse Mainstreet (Kansas City)
Cinema St. Louis (in partnership with the St. Louis Public Library) (St. Louis)
Screenland Armour Theatre (Kansas City)
Montana
Art House Cinema & Pub (Billings)
Covellite Theatre (Butte)
The Roxy Theater (Missoula)
Nebraska
Mary Riepma Ross Media Arts Center (Lincoln)
Nevada
The Sci Fi Center (Las Vegas)
New Hampshire
3S Artspace (Portsmouth)
Putnam Screening Room (Keene)
Red River Theatres (Concord)
New Jersey
The Highland Park Outdoor Movie Theater (Highland Park)
Landmark Loewe's Jersey Theater (in partnership with the Jersey City Free Public Library) (Jersey City)
New Mexico
Guild Cinema (Albuquerque)
Jean Cocteau Cinema (Santa Fe)
Taos Center for the Arts (Taos)
Violet Crown Cinema (Santa Fe)
New York
Alamo Drafthouse Downtown Brooklyn (Brooklyn)
Alamo Drafthouse Yonkers (Yonkers)
Anthology Film Archives (New York)
ArtRage Gallery (Syracuse) 
Hallwalls Contemporary Arts Center (Buffalo)
Cinema Arts Centre (Huntington)
Cinemapolis (Ithaca)
Cornell Cinema (Ithaca)
Film Society of Lincoln Center (New York)
GE Theatre at Proctors (Schenectady)
IFC Center (New York)
Jacob Burns Film Center (Pleasantville)
The Little Theatre (Rochester)
The Palace Theatre (Syracuse)
Nitehawk Cinema (Brooklyn)
Opalka Gallery - Sage College of Albany (Albany)
Picture House Regional Film Center (Pelham)
Rivertown Film Society (Nyack)
Rosendale Theatre (Rosendale)
The Moviehouse (Millerton)
Upstate Films (Rhinebeck)
Tang Teaching Museum and Art Gallery at Skidmore College (Saratoga Springs)
United Palace (New York)
North Carolina
Cameo Art House Theatre (Fayetteville)
Charlotte Film Society (at C3 Lab) (Charlotte)
Fine Arts Theatre (Asheville)
Rialto Theater (Raleigh)
Silverspot Cinema (Chapel Hill)
Ohio
Athena Cinema (Athens)
Gateway Film Center (Columbus)
Mini Microcinema (Cincinnati)
The Nightlight Cinema (Akron)
The Quaker Cinema (New Philadelphia)
Oklahoma 
Circle Cinema (Tulsa)
Oregon
Bijou Art Cinemas (Eugene)
Cinema 21 Theatre (Portland)
City Lights Cinemas (Florence)
The Clinton Street Theater (Portland)
Salem Cinema (Salem)
Pennsylvania
The Colonial Theatre (Phoenixville)
Goggleworks Film Theatre (Reading)
Haverford College (Haverford)
Hollywood Theater (Pittsburgh)
Midtown Cinema (Harrisburg)
Pittsburgh Filmmakers (Pittsburgh)
PFS Roxy Theater (Philadelphia)
Row House Cinema (Pittsburgh)
SMALL STAR Art House (York)
The Courtyard at the Pajama Factory (Williamsport)
Zoetropolis (Lancaster)
Rhode Island
Cable Car Cinema (Providence)
Jane Pickens Theater & Event Center (Newport)
South Carolina
The Nickelodeon Theatre (Columbia)
South Dakota
Cinema Falls (Sioux Falls)
Texas
Alamo Drafthouse Cinema - Mason Park (Katy)
Alamo Drafthouse Cinema - Montecillo (El Paso)
Alamo Drafthouse Ritz (Austin)
Texas Theatre (Dallas)
Violet Crown Cinema (Austin)
Utah
Park City Film Series (Park City)
Salt Lake Film Society - Tower Theater (Salt Lake City)
Vermont
Climate Change Cafe (Brattleboro)
Savoy Theater (Montpelier)
Woodstock Town Hall Theatre (Woodstock)
Virginia
Arlington Cinema & Drafthouse (Arlington)
The Byrd Theatre (Richmond)
Naro Expanded Cinema (Norfolk)
Violet Crown Cinema (Charlottesville)
Washington
Mirage Theater (Omak)
Capitol Theater (Olympia)
The Firehouse Theater (Kingston)
The Garland Theater (Spokane)
The Grand Cinema (Tacoma)
Pickford Film Center (Bellingham)
Seattle International Film Festival (Seattle)
West Virginia
Park Place Cinemas (Charleston)
Raleigh Playhouse (Beckley)
Wisconsin
Avalon Theater (Milwaukee)