3 things Trump could have tweeted about Monday instead of wiretapping and Hillary Clinton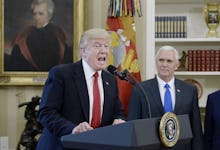 President Donald Trump seemed to suffer from a case of the Mondays, spending the morning tweeting about a confusing mix of issues ranging from baseless wiretapping claims to a primary presidential debate between Hillary Clinton and Bernie Sanders that took place more than a year ago.
Trump's tweets come at a time when he's facing a crucial test for his Supreme Court nominee, Neil Gorsuch. He's also set to meet with world leaders from China and Egypt, both critical figures in his promise to renegotiate trade deals and defeat ISIS.
The outcome of these items will have a lasting impact on Trump's legacy — especially after an embarrassing failure to repeal and replace the Affordable Care Act, one of his signature campaign promises. Yet the president focused on none of these issues in his Monday morning Twitter tirade.
Here's all the things Trump could have tweeted about instead:
Gorsuch's nomination
Gorsuch — and Trump, by extension — face a crucial test in the coming days, as the Senate is slated to vote Friday on Gorsuch's nomination.
If Gorsuch cannot get eight Democrats on his side — an outcome that looks unlikely — Republicans will have to decide whether to blow up longstanding Senate rules to get Gorsuch confirmed, a choice that could have a lasting impact on how the Senate functions. 
Yet Trump didn't use his Twitter feed as a pulpit to push Democrats to vote for his candidate. In fact, Trump has barely tweeted about Gorsuch at all since nominating him on Jan. 31. 
On Friday, Trump staff tweeted a graphic with text that said, "America needs judge Neil Gorsuch." But that tweet lacked any of Trump's blustery pushback to convince the opposition party to back his nominee.
In fact, the only real pushback Trump ever made on Twitter regarding Gorsuch was on Feb. 9, when he appeared to take issue with a comment Gorsuch made to a Democratic senator.
At the time, Gorsuch called Trump's attack on a judge who ruled against his travel ban "disheartening" and "demoralizing."
His meeting with Chinese President Xi Jinping
Trump talked tough about China during the campaign, going as far as to threaten a trade war with one of the United States' biggest trade partners.
Trump is slated to meet with Jinping on Thursday and Friday at his Mar-a-Lago estate in Palm Beach, Florida, where they are slated to discuss trade policy as well as national security issues, including North Korea's nuclear capabilities.
But again, Trump's Monday-morning tweet storm made no mention of this meeting.
Bombing in Russia
As Trump tweeted about wiretapping and Clinton, bombs went off in a subway station in St. Petersburg, Russia. There are few details so far on who's behind the apparent attacks, which have left 10 dead and dozens of others injured, according to reports.
As of press time, Trump had not tweeted a message of support for the bombing victims, nor a reassurance to the American people that his administration is monitoring the situation back home.