'Ghost in the Shell' marks latest whitewashed film to be a critical and box office failure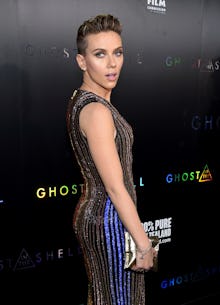 Ghost in the Shell, starring Scarlett Johansson, made a disappointing $20 million at the domestic box office in its opening weekend, falling well below market predictions and failing to match even Johansson's previous science fiction effort — Lucy (2014) — which lacked Ghost's famous source material and pre-established fan base.
The film, released Friday, adapts the celebrated manga series and anime film of the same name. The live-action remake has drawn controversy over its casting, which — like many American adaptations of Japanese source material of late — installed a white lead actor in a role that was originally conceived as Asian.
Johansson, for her part, defended her casting during an interview with Good Morning America on Tuesday.
"I think this character is living a very unique experience in that she has a human brain in an entirely machinate body," Johansson said (her character, Major Motoko Kusanagi, is a cyborg). "I would never attempt to play a person of a different race, obviously. Hopefully, any question that comes up of my casting will be answered by audiences when they see the film."
But so far, neither American audiences nor critics are buying in. On top of its low box office earnings, Ghost in the Shell boasts an underwhelming 43% on Rotten Tomatoes, reflecting a pattern emblematic of films that cast white actors in nonwhite roles. Previous examples include The Last Airbender, Gods of Egypt and Dragonball Evolution — all of which featured white leads, were critical flops and, for the most part, box office disappointments as well.
It's a stretch to suggest that Hollywood will change its practices on the basis of these high-profile duds. Netflix already has an adaptation of another manga and anime series, Death Note, in the works, featuring a majority-white cast. But perhaps the outcry over these casting decisions will give decision-makers pause in the future, and force them to re-evaluate whether whitewashing roles is really the best route moving forward.