Hype Tracker: Did 'The Walking Dead' and 'Big Little Lies' finales live up to the hype?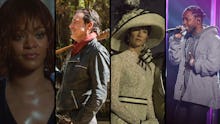 Any time an anticipated movie, TV show, album or other artistic product drops, one inevitable question lingers in the air: Does it live up to the hype? In our new weekly Hype Tracker column, the Hype staff will take a closer look at four pieces of pop culture from the past week. We'll break down how well each stacks up compared to expectations. This week, we're looking at how Big Little Lies and The Walking Dead wrapped their seasons, plus delve into Bates Motel's handling of an iconic scene and Kendrick Lamar's newest track.
[Editor's note: Spoilers ahead for The Walking Dead, Bates Motel and Big Little Lies.]
The Walking Dead mostly sticks the landing.
The Walking Dead's seventh season is probably the worst season of the show thus far. What's more, the sinking ratings proved it might be actually be mortal. So season seven's finale, which promised a plethora of action between Alexandria and the Saviors, really needed to deliver. Another six months on hiatus with a disappointed fanbase would've been catastrophic.
Against all odds, they mostly nailed it. Sure, none of the major characters were killed in the gunfire, but when a CGI tiger named Shiva shows up and bites bad guys in the face, you just sit back and enjoy the carnage. This doesn't mean The Walking Dead's biggest issues — namely, stagnant and repetitive storytelling — are resolved, but when it wants to be fun, it can still make for an entertaining hour of television. —Miles Surrey
Did it live up to the hype? Expectations weren't the highest coming off such a weak season, so this episode managed to clear a relatively low bar.
Bates Motel subverts expectations.
Bates Motel is one of the best shows on TV — that people just aren't watching. As the fifth and final season comes to a close, the series is inching closer to Alfred Hitchcock's Psycho ending. However, the show writers manage to keep viewers on their toes with the highly anticipated Marion Crane shower scene. While it appeared as if Bates Motel super fan Rihanna would become Norman's next victim, the series delivers the ultimate twist by having Norman spare Marion's life. Instead he kills Sam Loomis, a character from Psycho who plays an important role in taking him down.
The series has never followed the 1960 movie to a T (Sheriff Romero and Dylan don't exist outside of the A&E series), so it's not all that surprising that they chose to change up the shower scene. But the moment still delivered. Marion's death would have just been another body, but Sam's death opens up another can of worms. Sam's murder is personal — a way for Norman to lash out at his abusive, dead father. On top of that, Norman's going to have his friend Madeleine searching for her husband. —Amanda Buckle
Did it live up to the hype? This was the moment Bates Motel needed to get right, and they aced the test.
Kendrick Lamar gets "Humble."
With its punishing Mike Will-Made-It beat, stunning visual and surgically precise flows, Kendrick Lamar's "Humble" lit the internet on almost literal fire when the rapper surprise-released it Thursday — and for good reason. The video's inventive cinematography, clever interpolations of street and religious aesthetics and its miniature ode to stretch marks and natural beauty proved once again that Kendrick treats songcraft with a whole other level of respect compared with much of the hip-hop world. 
Like "The Heart Part 4" the week before, the track doesn't just tell rappers they're phoning in the beats and bars — it shows them, brutally, beautifully, with a level of detail that likely made the most unshakable MC blush. It's raised the bar for the album, likely coming Friday, to a dizzying height. As far as craft goes, Kendrick's left no one to top but himself. —Tom Barnes
Did it live up to the hype? Kendrick not only did what others expected of him, he surpassed expectations.
Big Little Lies ends on the beach.
Much about the Big Little Lies finale was wonderful — so perfectly rendered an ending that it makes a great argument against any kind of second season. Why mess with flawlessness when too much of a good thing can be terrible? But nothing in the finale was better than that epilogue at the beach.
Watching these five women — type-A Madeline Martha Mackenzie, legal eagle Celeste Wright, free spirit Bonnie Carlson, queen of Monterrey Renata Klein and newbie-no-more Jane Chapman — merely exist together as friends was such a delight. They were bound by their shared traumatic experiences at the hands of the late abuser Perry Wright, and by the secret they kept: that Bonnie killed him to save them all.
As they frolick with their kids and embrace each other, something truly beautiful is born. Their past arguments melt away; instead, what remains is a seemingly unbreakable bond. The Big Little Lies finale in total was a triumph, but nothing felt quite as incredible as this cherry on top. —Kevin O'Keeffe
Did it live up to the hype? Excitement was high heading into the finale, but Big Little Lies just nailed it.