What is 'Top Boy'? 3 things to know about Drake's rumored new show and return to acting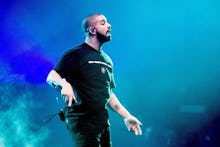 After releasing his blockbuster playlist, More Life, it seems Drake might be returning to the acting world.
It has been a while since Drake has taken on an acting role. The rapper began his career on-screen in 2001 as jock Jimmy Brooks on teen soap Degrassi: The Next Generation. After leaving the role in 2009, Drake lent his voice to Ice Age: Continental Drift in 2012, and made a cameo in Anchorman 2: The Legend Continues in 2013. Now it appears that he'll return to the small screen on the formerly canceled U.K. show Top Boy.
In an interview with U.K.'s Daily Mirror, the show's star, Ashley Walters, dished that they're talking about the next season and how they can feature Drake. "We met up to start talking about the show and we are working out a role for him," he said. "He loves acting, of course he wanted a part. He's going to be really hands on and is getting stuck into it." 
When and how will Drake appear?
The show originally premiered in October 2011, but was not renewed for another season after its season two finale in September 2013. 
Thankfully, Drake bought the rights to the series to give it more life. Drake loved the show and was sad to see it go, so he reportedly offered to buy it from Channel 4. Unfortunately, there is no confirmed date or any concrete plans at the moment for season three, but as Walters teased, it is in motion. 
What is Top Boy about?
The Channel 4 gang drama centers on a group of friends growing up in London and running an underground drug ring. The series examines the ins-and-outs of inner city life, with a look at gang-related issues. The show stars Walters, Kane Robinson, Shone Romulus, Malcolm Kamulete and Sharon Duncan-Brewster. 
Drake's love for the show
While there have only been two seasons of the series, consisting of eight episodes total, the rapper was a fan. He uploaded a picture of him with Walters in February to Instagram, so you know it's real. 
He posted another Instagram about the series in 2016, teasing the revival of the show with the caption "Top Boy will rise again":
His friendship with Walters goes back to 2014 when Drake fanboyed over him on Twitter:
Drake is taking the project very seriously. In a 2016 interview with Beats 1, U.K. rapper Skepta, who was featured on More Life, revealed he is working with him on the series and that they're very excited for what's to come. 
"Even with the Top Boy series with Ashley Walters... I've been talking like on the creative direction wave with Drake about the series," Skepta said. "Making greatness with it. The whole style of what's going on in London, the sound, is real. It's an actual thing that actually happened. So it deserves to be on the telly."
We're very much looking forward to Drake's return to acting. 
Mic has ongoing TV coverage. Please follow our main TV hub here.