When will 'Preacher' Season 2 premiere? Air date, plot and more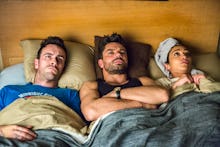 If you watched The Walking Dead's season seven finale on Sunday night, chances are you saw a trailer for a show where its characters debated the merits of "Come on, Eileen" and blew up cars. It also featured a man in full dog costume — or was it a dog-man hybrid? Either way: Welcome to the world of Preacher. 
AMC's surreal supernatural series — based on the hit graphic novels of the same name — had a quiet debut last year since it came out around the same time as Game of Thrones. But it's a good show that has the chance to be great in season two, because it's finally going to dip into its beloved source material. 
Preacher season two premiere date and synopsis
Preacher's second season will make its debut on Monday, June 19. AMC made the announcement during SXSW Festival last month and provided a brief synopsis for season two: 
The expanded second season, consisting of 13 episodes, is a genre-bending thrill ride that follows West Texas preacher Jesse Custer (Dominic Cooper), his badass ex-girlfriend Tulip (Academy Award nominee Ruth Negga) and an Irish vampire named Cassidy (Joseph Gilgun) as they embark on a road trip to find God and are thrust into a twisted battle spanning heaven, hell and everywhere in between. 
There's also a few season two photos available — including a behind-the-scenes shot featuring executive producer Seth Rogen —  which you can check out below.
So, what's Preacher about?
Preacher — as the name might suggest — follows a small-town Southern preacher, Jesse Custer, who gains the power to control people when he speaks to them (basically, the equivalent of Jessica Jones' villain Kilgrave). The first season acts as a prequel to the comics, which focuses on Jesse's preaching; something the comics never actually explore. 
Season two should pick up where the comics kick off, with Jesse, his ex-girlfriend Tulip and the vampire Cassidy embarking on a chaotic road trip to find God — and yes, it's as batshit as you might expect. Season two also gives Preacher a chance to really resonate with fans in a way the first season didn't. 
Season one wasn't bad television by any means, in fact, it's still one of the better shows available on AMC. But it was a slow-burn drama that didn't really deliver on its zany comic book premise, grounding Jesse, Tulip and Cassidy to one town instead of a sprawling road trip. 
Where can you watch season one? 
If season two of Preacher sounds like it's up your alley, the first season will be available to stream on Hulu starting Wednesday. If, for some reason, you can't wait to binge the series till then, it will be available on AMC's website until Tuesday, and the first two episodes are available to stream without a cable login. 
Bless up. 
Mic has ongoing TV coverage. Check out our main TV hub here.