'Pokémon Go' Update: The Silph Road celebrated April Fools' with a Team Rocket takeover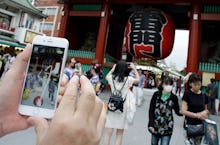 It seems Niantic didn't take the bait on making an April Fools' Day event for Pokémon Go — not surprising given the Water Festival just ended a few days ago. However, the lack of an official April Fools' update didn't stop the Silph Road reddit community from having a little fun of their own on April 1.
If you missed the event and are curious to see what it entailed, read on.
Pokémon Go April Fools' event: A Team Rocket scavenger hunt
As part of an April Fools' prank, the Silph Road's Nest Atlas tool was taken over by Team Rocket — the antagonists from the first two generations of Pokémon. Their takeover came complete with a threatening, sinister letter from the organization's leader, Giovanni.
According to the full post on the Silph Road, Team Rocket had taken over the Nest Atlas and captured dronpes and marcoreppi, two of the subreddit's moderators, stating that only they could restore the Atlas to its original state and that "they wouldn't be coming back."
This sparked the actual event portion of the April Fools' prank, where Silph Road posters were tasked with finding dronpes and marcoreppi based on various updates they'd left in the Nest Atlas and on the Silph Road subreddit.
Participants had to find various points on the Nest Atlas. That included cracking a cryptic communique from a user named "TheGiovanni" on the Silph Road site to locate the Team Rocket research facility in Verkhoyansk, Russia.
The prank/event culminated in Silph Road users tracking dronpes and marcoreppi to Times Square in New York, where Silph HQ is located. If you clicked on the Silph HQ building, it took you to a site where you could help the Silph Road fight off Mewtwo, the cloned Pokémon created by Team Rocket out of Mew's DNA.
The fight didn't work exactly as intended since the sheer number of users trying to access it actually crashed the site, but it was still fun to see a community-organized event take place on the Silph Road. Here's hoping we see more community-driven events like this from the Silph Road in the future in the same vein as this one.
More Pokémon Go news, updates, tips and tricks
Check out Mic's Pokémon Go guides on how to get stardust, how to determine how long it will take you to reach level 40, the kind of Pokémon you get from 10km eggs, how to create new PokéStops, how to maximize your chances of catching Pokémon and how PokéStops distribute Pokémon eggs. Also check out how to catch Gen 2 baby Pokémon, our analysis of post-balance update Chansey and Rhydon and everything you need to know about finding the long-awaited Pokémon Ditto.