Fox News contributor Julie Roginsky accuses Roger Ailes of harassment in new lawsuit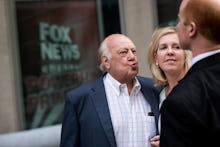 Just days after Fox News' parent company signed a $13 million check to settle five sexual harassment suits, another one has arrived at its doorstep.
According to NPR, Fox News contributor Julie Roginsky filed a lawsuit Monday morning accusing former Fox News CEO Roger Ailes of sexual harassment and Fox News executives of retaliation.
In it, Roginsky accuses Ailes of commenting on her appearance and asking her to drinks – later retaliating against her when she rebuffed his advances and eschewed his advice to "date older married men."
Roginsky said Ailes ruined her chances at landing a hosting gig at Fox News, taking back his promise that she could host The Five — the show on which Roginsky most frequently appears, along with Outnumbered.
"Ailes cynically toyed with Roginsky, saying that he would really like to give her a permanent spot on The Five," the lawsuit reads, according to NPR. "Immediately after this statement, Ailes remarked that 'if it wouldn't get us both into so much trouble' he would take Roginsky 'out for a drink.'"
What's more, Roginsky claims Fox News Network Co-President Bill Shine and Executive Vice President of Legal Affairs Dianne Brandi went to their own lengths to retaliate against her, particularly when she refused to "malign" Gretchen Carlson, who filed her own lawsuit against Ailes in July. 
Roginsky joins at least 20 women who have leveled sexual harassment allegations against the former CEO.