Officer Betty Shelby describes Terence Crutcher as "zombie-like" in '60 Minutes' interview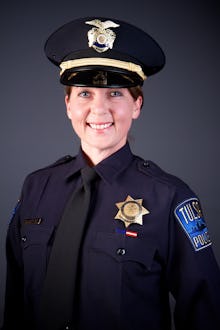 60 Minutes aired an interview Sunday with Tulsa, Oklahoma, police officer Betty Shelby, who will stand trial in May for killing Terence Crutcher, an unarmed black man.
Shelby, 42, shot 40-year-old Crutcher to death in September. She faces manslaughter charges, and — if convicted — could be sentenced to anywhere between four years and life in prison.
Snippets of the interview have been published over the past week, but the most damning portion, aired Sunday, shows Shelby describing Crutcher as a hulking, "zombie-like" menace — a descriptor eerily similar to that which officer Darren Wilson used to describe Michael Brown after he killed the unarmed 18-year-old in 2014.
"[Crutcher's] hands are just dropped beside him," Shelby said. "His chin is resting on his chest. And he's standing there motionless. And I thought, 'Hmmm. I wonder if he's on PCP.' ... It was an odd behavior. Zombie-like."
Shelby went on to describe Crutcher as "zombie-like" one more time at the interviewer's prompting, and insisted that him being a large black man had nothing to do with why she killed him.
"What I based everything on was his actions, his behaviors," Shelby said. "Race had nothing to do with my decision making."
But comparing Crutcher to an undead monster fits a pattern of white police officers overstating the threat posed by black suspects by likening them to superhuman beings. Wilson used the same tactic when he testified before a grand jury in November 2014, en route to evading an indictment.
Brown "had the most intense, aggressive face," Wilson said of his encounter with the teen. "The only way I can describe it, it looks like a demon, that's how angry he looked."
Demons, zombies, even the tendency to perceive black children as adults: All of these characterizations have been used to justify police officers feeling scared enough to open fire on innocent black people. Remarkably, this has been an effective method before grand juries: Both Wilson and Timothy Loehmann — the Cleveland police officer who killed 12-year-old Tamir Rice in 2014 — avoided being indicted in their respective cases. Time will tell if the pattern holds for Shelby as well.