Navient, the largest federal student loan servicer, says it can legally give bad advice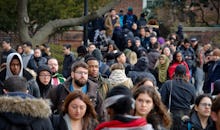 Navient, the largest student loan servicer in the country — with a portfolio of roughly $300 billion in student loan debt from about 6 million borrowers — said in a March 24 court filing it has no duty to give consumers good advice. 
The filing, reported by Bloomberg Monday, was in response to a lawsuit by the Consumer Financial Protection Bureau alleging that the lender systemically failed millions of borrowers "at every stage" of the repayment process. As part of its defense, Navient's attorneys argued that "there is no expectation that the servicer will act in the interest of the consumer."
Because there's no legal obligation, the company argued, there's no reason borrowers could "reasonably rely" on Navient's advice. Good to know, Navient.
In simpler terms: The company is saying it doesn't have any obligation to any party — beyond the banks or other lenders a borrower might be trying to pay back. But that doesn't address the billions of dollars that Navient handles in federal loans, which come with guaranteed protections like income-based repayment, as David Bergeron, a former official at the Department of Education now working at the Center for American Progress, pointed out.
The DOE doesn't know how much income borrowers make, Bergeron said, so it can't determine who distressed borrowers are — and identifying struggling borrowers who need help is the whole reason the government employs companies like Navient in the first place.
"If all a servicer was going to do is collect payments and appropriately credit them to the borrower's account, then the department doesn't need servicers," Bergeron said. "The Treasury department can set up lock boxes and accept payments. They do it all the time."
Navient's court filing is also notable because the company's CEO Jack Remondi frequently encourages borrowers to contact the company for advice.
One recent example was a Medium post by Remondi about CFPB complaints: Navient is the seventh most-complained-about company in the CFPB's database, according to bureau data reported by Bloomberg. The company addressed those complaints in that post, tweeted by Navient on March 24. 
"On federal loans, income-driven repayment options offer assistance," Remondi wrote. "However, we cannot assist borrowers with these options unless we can speak with them. We need more voices encouraging student loan borrowers to engage with their servicers to ensure they are aware of their options."
But, as Bloomberg pointed out, there's a striking dissonance between what Navient says publicly and what it says in its legal filing. After all, if Navient's only obligation is to lenders, as it argued in court, it could theoretically steer borrowers away from helpful income-based repayment plans that might lower their overall interest payments. 
Indeed, according to the CFPB, that's exactly what Navient did, leading to an additional $4 billion in extra interest charges for borrowers.
When contacted by Mic, Navient stuck to its guns: "Servicers provide information about repayment plans and routinely provide information and support to borrowers, but have no 'fiduciary' responsibility to serve as a financial adviser to borrowers," the company said via email.
In that same statement, Navient also pointed to a 2016 federal ruling finding that the CFPB's structure may be unconstitutional — a decision the agency is currently appealing.
The CFPB, set up as a financial industry watchdog in the aftermath of the 2008 financial crisis, has returned some $11.8 billion to roughly 29 million consumers since its founding in 2011. Consumer advocates say they fear the agency could be a target of President Donald Trump's pledge to slash regulations stifling businesses.
Without the CFPB, Bergeron said, the Department of Education could have a harder time regulating large loan servicers. "What I've always been concerned about is Navient is such a big servicer, they drive the price of the servicing," Bergeron said. "If they withdrew all that capacity, the cost of servicing could go up. But in light of... poor service, that starts to outweigh any potential cost."
Somewhat ironically, on Monday Navient published a press release celebrating Financial Literacy Month and promoting the company's financial literacy initiatives, which include the aforementioned Medium post. 
"At Navient, we believe everyone should be empowered with knowledge to make informed decisions about money," Remondi said in the press release. "Especially when it comes to student loans."
Given the mixed messages out there, what should consumers do? If you're a borrower and are concerned about your ability to pay your student loans, Bergeron said to consult the DOE's website before reaching out to your servicer, so you know what all of your options are. 
That way, you can demand servicing options that the company in question may not be informing you about as clearly as they should. Andy Josuweit, founder of Student Loan Hero, said it's always going to be important to be skeptical of the advice you get from your student loan servicer, whether your loans are public or private. 
"I had to apply for income-based repayment when I was younger, and it's not an easy process," Josuweit said. "You call the loan servicers, and sometimes they don't even know what kind of advice you should be given... You don't know what their incentives are."
If you're still confused after consulting the DOE and third parties like Student Loan Hero or NerdWallet, you may want to consider hiring a professional who is legally required to give you advice that's in your best interest: a fiduciary.
They'll be able to help you come up with a plan for your debt and what sorts of arrangements you can demand if your servicer isn't providing them.
Sign up for The Payoff — your weekly crash course on how to live your best financial life. Additionally, for all your burning money questions, check out Mic's credit, savings, career, investing and health care hubs for more information — that pays off.