What movies are coming out in April 2017? Here are the top 6 films to catch in theaters.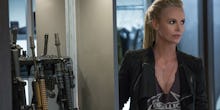 April showers may bring May flowers, but they also bring new movies. 
We have one more month before the summer movie season officially kicks off with the hotly anticipated Guardians of the Galaxy Vol. 2. Before then, April has a few upcoming theatrical releases that we are looking forward to. 
From the latest Fast and Furious sequel to the ridiculous but amazing-looking Katherine Heigl and Rosario Dawson thriller Unforgettable, there is something for everyone. Here are our picks for April's best films to watch in theaters.
1. Colossal 
One of the most interesting and original films coming out this month is director Nacho Vigalondo's Colossal.
The film stars Anne Hathaway and Jason Sudeikis. Hathaway plays Gloria, a woman who is going through a mental breakdown that is also connected to a monster wreaking havoc on the world. Yes, our beloved Anne Hathaway plays a monster and it's something you need to run out and see. 
Release date: April 7.
2. The Fate of the Furious
 Things are about to get fast, fateful and furious. 
The Fate of the Furious is the latest sequel in the Fast & Furious franchise — a seemingly never-ending series that will outlive all of us. In the newest entry, the team is at odds. Maybe it's inspired by the rumored real-life feud between Vin Diesel and Dwayne "The Rock" Johnson? 
Dom has gone rogue and it looks like they need to stop him. All your favorites are back like Diesel, Johnson, Tyrese Gibson, Ludacris and Michelle Rodriguez. The film also added some new blood with Charlize Theron thrown into the mix.
Release date: April 14. 
3. Smurfs: The Lost Village
If you're looking for a movie for the whole family, there is another Smurfs movie coming your way. The beloved blue characters return for a totally animated theatrical outing in Smurfs: The Lost Village. The Smurfs uncover a big secret after discovering a map that sets them on the biggest adventure of their lives. 
The film features a star-studded voice cast that includes Ariel Winter, Demi Lovato, Joe Manganiello, Michelle Rodriguez, Julia Roberts and Mandy Patinkin. 
Release date: April 7. 
4. Unforgettable
There is nothing we love more than a thriller. Obsessed, Enough and The Call are just some of our favorites. The latest addition to the genre is Unforgettable. 
What's it about? Well, buckle in. Rosario Dawson plays Julia, the new wife of David, played by Geoff Stults, and things begin simple enough. They're in love, they're happy and he introduces his new love to his ex-wife, played by Katherine Heigl. Things then go the way you expect and hope for: mystery, break-ins and an all-out fight. We'll see everyone there opening day. 
Release date: April 21. 
5. Free Fire
This month sees the release of director Ben Wheatley's Free Fire. The film is an old school shoot-'em-up-style action movie set in Boston in the '70s. The plot is simple: Two rival gangs end up in a warehouse and have a shootout until no one is left standing. 
Free Fire boasts an all-star cast, including Brie Larson, Sharlto Copley, Armie Hammer, Sam Riley and Cillian Murphy. 
Release date: April 21. 
6. The Circle
Emma Watson and Tom Hanks star in the sci-fi thriller The Circle. 
Based on the book of the same name by Dave Eggers, the film features Mae Holland, played by Watson, who begins working at a tech group called the Circle. At first, the job is seemingly wonderful — until she ultimately unearths the truth about a project she becomes involved in that could impact the entire planet. 
Release date: April 28. 
Mic has ongoing movies coverage. Please follow our main movies hub here.