Here's why those meetings between Trump-tied businessmen and the NSC matter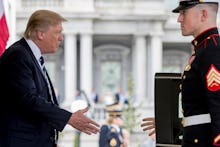 Two businessmen with ties to the Trump family spoke with National Security Council officials about removing sanctions on Venezuela, Mic's Jake Horowitz exclusively reported on Monday. That pitch happened during a meeting with top National Security Council and White House staff while the now-disgraced Michael Flynn was still running the NSC. One of the businessmen, Gentry Beach, was a major fundraiser for Trump and is a close personal friend of Donald Trump Jr. The other, Wadie Habboush, an energy consultant and investor, presented the proposal to Trump's top adviser, Steve Bannon, in a subsequent meeting. (Read the entire story here.)
A bipartisan clutch of ethics experts told Mic a meeting between national security officials and campaign fundraisers raises thorny ethics questions and violates NSC protocol. "If this account is true, it raises serious questions about the conduct of foreign policy by the Trump administration," said Mark Feierstein, a former NSC official from the Obama administration. "Those meetings never should have taken place at any level, let alone with senior officials in the West Wing."
The NSC was set up in 1947 as an explicitly apolitical executive branch arm for national security policy. But now Trump Jr.'s hunting buddy — a high-dollar Trump campaign fundraiser — got access to the highest level of the White House's policy staff to push a foreign policy proposal. What other meetings have taken place? And with whom? The ask seems not to have worked — the White House put more sanctions on Venezuela after the meeting took place — but these are just a few of the questions Mic's story raises.
This is Mic's daily read on Donald Trump's America. Welcome to the political newsletter that loves a good scoop. 
Highlights: 
•  Today: A Mic scoop: Businessmen with links to the Trump family met with National Security Council officials in an attempt to get U.S. sanctions on Venezuela lifted.  
•  More: The battle to confirm Neil Gorsuch continues.
•  Even more: How White House staffers made their millions.
•  Trump's agenda today: Holding meetings with Egyptian President Abdel-Fattah el-Sissi. A public briefing is not scheduled. (More below.)
A Supreme Court showdown
There are now three Senate Democrats supporting Neil Gorsuch's nomination to the Supreme Court, but the conservative judge still faces opposition from a majority of Senate Democrats. If 41 or more Democrats oppose Gorsuch, they can force a filibuster. That leaves one path to confirm Gorsuch: the so-called "nuclear option." Sen. Majority Leader Mitch McConnell could bypass the Democratic filibuster and confirm the judge with a simple majority. That method has never been invoked to confirm a Supreme Court justice, though Democrats began using the tactic in 2013 to confirm lower court Barack Obama judicial appointments.
All 52 Republicans are planning to support Gorsuch. That brings the numbers of votes Gorsuch can count on to 55 — five short of the 60 necessary to avoid a filibuster. Sen. Minority Leader Chuck Schumer said Sunday it is "highly unlikely" Gorsuch can earn the 60 votes needed to avoid a filibuster. The latest CNN count puts 40 Democrats opposed to the judge and willing to filibuster his confirmation. 
McConnell said last week that Gorsuch's confirmation will come up for a full vote on Friday. Gorsuch is expected to be voted out of committee on Monday, a week late following a Democratic delay.
The Egyptian leader is in Washington
Nearly three years after coming to power as Egypt's president, Abdel-Fattah el-Sissi will meet with Trump at the White House on Monday. El-Sissi has described his country as a bulwark against the rise of Islamic terrorism, employing harsh tactics to crush dissent in Egypt in the name of rooting out terrorists. That crackdown has imprisoned tens of thousands, severely limiting free speech and journalism. The Obama administration did not grant el-Sissi the legitimacy he desired. Trump now plans to "reboot" that relationship.
In 2013, one year after Mohamed Morsi was elected Egypt's president in the country's first free election, el-Sissi deposed Morsi. El-Sissi won the presidency in 2014 with 97% of the vote in a contest where political rivals could not vote. Egyptians now face the same civil and political rights restrictions that they did before the uprisings against longtime President Hosni Mubarak in 2011. 
The BBC reports el-Sissi is likely to ask for an increase in the $1.3 billion in funds it already receives as it works to fight ISIS in Egypt, where hundreds of security personnel have been killed by terrorists.
Back to health care?
A week ago, Trump and House Speaker Paul Ryan had said Republicans were shifting focus from health care to tax reform. Not anymore. The president reiterated in a weekend tweet what had been buzzing around Washington for days: Health care is back on the table. In an interview with the Financial Times, Trump claimed some members of the Freedom Caucus are ready to support a new bill under negotiation. "I don't lose," the president said.
Congress has a week left to work before a two-week break. The original plan was to pass the American Health Care Act through the House and Senate by Friday. That's impossible now, but we will see what consensus emerges. 
Financial disclosures
On Friday, the Trump White House released dozens of financial disclosure forms for administration officials. ProPublica, the New York Times and the Associated Press created a public Google Drive folder with all the financial disclosure forms. They detail Ivanka Trump and Jared Kushner's real estate and investment empire is worth as much as $740 million, the Times reported. They also show how chief White House strategist Steve Bannon made at least $1.3 million last year with assets in the tens of millions. 
News and insight you cannot miss:
•  The stories about Trump's proposed budget impacting his base are pouring in. The New York Times wrote about an Ohio county that would see cuts in rental assistance and housing aid. The Washington Post visited a senior center in Oklahoma that could close if Trump's budget were implemented. 
•  Sen. John McCain said House Intelligence Committee Chairman Devin Nunes (R-Calif.) "killed" the House's bipartisan investigation into Trump and Russia. (Politico)
•  The Kremlin would love for Trump to meet with Russian President Vladimir Putin. (Fox News)
•  Trump's social media guru called for a member of the House Freedom Caucus to face a primary challenge on Twitter. So Rep. Justin Amash (R-Mich.) clapped back — and turned it into a fundraising opportunity.
•  After Republicans voted to allow internet companies to sell your online activity, porn sites are upgrading their security. (Mic)
•  Speaking of Kushner: Trump's peace envoy to the Middle East is on a surprise visit in Iraq. (NBC News)