Melania Trump just got her official White House portrait — and there's already controversy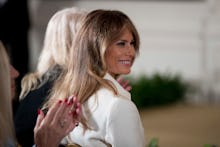 The White House has just revealed Melania Trump's first official White House portrait. But as with anything going on in the Trump administration, there's already controversy. 
In the picture, Trump is seen standing with her arms crossed, wearing a black Dolce & Gabbana jacket with what looks like it could be her favorite neckline style of all: A pussy bow, which she notably wore two times during presidential debates, which both took place after tapes leaked of her husband saying the words "Grab them by the pussy." 
(The black bow, by the way, is Hermès.) 
But anywho, that's not actually what the controversy is about. According to a number of people on Twitter, Trump's face looks very, very airbrushed. 
So much so that, to some, it looks like a painting. 
Or, for others, a Snapchat filter.
Compared to previous portraits of first ladies like Michelle Obama and Laura Bush, it's a hard point to argue against. For both of Obama's portraits, there appears to be far less editing.
The same goes for Bush's portrait in 2005 too. 
On Trump's portrait though, there seems to be an obvious filter effect going on, with a glow over her skin. 
At this point, we're left wondering: Who OK'd this? And why?