'Zelda: Breath of the Wild' Wii U Emulator Update: Cemu 1.7.4 improves ROM performance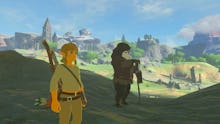 Playing Legend of Zelda: Breath of the Wild on PC with an emulator program like Cemu has been a pretty rough experience until now, but firing up BotW using the latest version of Cemu is a different story. Now that Cemu version 1.7.4 is on the way for your Zelda ROM-playing pleasure, here's what changes you can expect.
Zelda: Breath of the Wild Wii U emulator update: Cemu 1.7.4 offers most stability yet
The current version of Cemu is 1.7.3. However, the preview version of Cemu 1.7.4 has already hit the web, and early reports claim the new update is much better. According to YouTube user reznoire, there's a drastic difference between the two editions.
As seen in the above video, the older version of the Cemu emulator shows Zelda: Breath of the Wild running without any of the game's beautiful grass animations. Link can't even stand in a field without sinking into the ground. Certain puzzles in Breath of the Wild's shrines are simply unplayable in the old version, but that's set to change with Cemu 1.7.4.
Zelda: Breath of the Wild Wii U emulator update: When will Cemu 1.7.4 release?
According to DSOGaming, the new version of Cemu is available to those who have backed the app and will soon be released to everyone else.
Those who have supported the software's developers on Patreon can unlock Cemu 1.7.4. A donation of $5 or greater is required to get the new version right away.
More Zelda: Breath of the Wild news and coverage
Find out all there is to know about Zelda: Breath of the Wild, including our running list of all the people of color in Hyrule. Learn how to preserve your items, how to beat bosses like the Stone Talus and Lynel, the best recipes for Link and how to take on the game's shrines. If you're looking to snag a giant horse with little stamina, here's how to do it. You'll also want to find out where all the great fairies are in the game, how to use amiibo with your version of Zelda and what went into making Breath of the Wild.