'Destiny 2' DLC Release Dates Leak: Bungie memo to GameStop may have spilled the details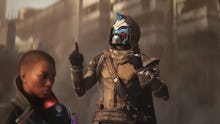 Destiny's robust post-launch downloadable content support included four named expansion packs, each of which added tons of new weapons, gear and content to obsessively farm until the next one came out. 2015's "The Taken King" expansion specifically revamped major aspects of the game and brought it to new heights.
It's safe to assume Destiny 2 will operate in a similar way. According to a supposedly leaked memo, that will be the case.
Destiny 2 DLC plans leak from GameStop
Wccftech reports that a GameStop employee leaked some documents sent to the retailer by Bungie. These documents purportedly lay out a broad DLC release schedule as well as offer some vague hints about the nature of the game itself.
The Destiny 2 Expansion Pass includes reservations for both Expansion I and Expansion II, which will be released in Winter 2017 and Spring 2018, respectively. The Expansions offer brand new story missions, co-operative activities, competitive multiplayer, and a wealth of new weapons, armour, and gear.
Most of the information in these documents is believable, with plenty of it having been confirmed by Bungie already. The first game's DLC schedule was similar, with the "The Dark Below" and "House of Wolves."
All in all, these documents look decent enough. Anyone can write up and print out professional-looking documents, but there's no reason to go through that much effort just to make up believable lies about DLC release dates. It's not a bombshell leak by any means, but if this holds true, Destiny 2 will get plenty of support after its launch later this year.
More gaming news and updates
Check out the latest from Mic, including our deep dive into how female Overwatch players are dealing with online harassment, an article about a fan movement advocating for more same-sex romance options in Mass Effect, a cool making-of video for Legend of Zelda: Breath of the Wild and an article about what a Bechdel test for gaming might look like.