'Persona 5' Confidant Guide: How to build relationships and kick butt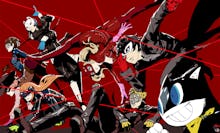 Persona 5 is just around the corner, coming out in North America on April 4. Since the trailer was released, fans have been more than ready to jump back into the exciting lives of super powered high school students. 
Like Persona 3 and Persona 4, socializing with your peers is a big part of the game — especially if you want to win fights. Here's a brief guide on how to find, use and upgrade your Confidants, as the game calls them, in Persona 5, according to SegmentNext and Persona 5 guide site GGEZ.
What are Confidants in Persona 5?
Confidants in Persona 5 function similarly to how the social links mechanic operated in Persona 3 and 4. They result from meeting and building a relationship with specific characters who will then offer their co-op abilities in the game. 
These abilities can range from time manipulation to earning money faster in battle or can be something simple like switching team members in battle.
How to unlock Confidants in Persona 5
There are quite a few confidants in the game that each get unlocked in a different way. A handful will get unlocked through regular story progression, whereas others need to be unlocked in specific locations.
For example, Igor and Morgana will be unlocked as part of the story. Futaba Sakura, however, will be unlocked at Cafe Leblanc no earlier than August 31. GGEZ has a full list of dates and locations if you're interested in the specific details. 
Finally, keep in mind you'll want to constantly build your relationships in order to get better in battle bonuses.
More gaming news and update
Check out the latest from Mic, including our deep dive into how female Overwatch players are dealing with online harassment, an article about a fan movement advocating for more same-sex romance options in Mass Effect, a cool making-of video for Legend of Zelda: Breath of the Wild and an article about what a Bechdel test for gaming might look like.