Indiana judge blocks law requiring ultrasounds before abortion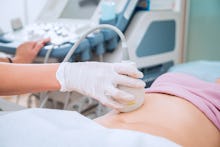 Abortion rights activists scored a win in Indiana on Friday, when a federal judge temporarily blocked a state law requiring women to receive an ultrasound at least 18 hours before receiving an abortion. 
Both Planned Parenthood and the American Civil Liberties Union contested the mandate back in July, filing a legal challenge to the legislation they said placed "undue burden" on women.  
Vice President Mike Pence, then governor of Indiana, signed the bill into law in March 2016.
"We wish Indiana's politicians would leave the practice of medicine to doctors and health care providers rather than interfering yet again," Betty Cockrum, president and CEO of Planned Parenthood of Indiana and Kentucky, said in an ACLU press release at the time.
U.S. District Judge Tanya Walton Pratt, who issued Friday's ruling, agreed. She said the law would have no impact on a patient's decision to terminate a pregnancy and would likely place an "undue burden on women's constitutional rights."
Ultrasound mandates have long been a popular tactic of those who oppose abortion rights. Currently, 14 states require women seeking abortions to receive "verbal counseling or written materials" on how to get an ultrasound, according to the Guttmacher Institute. Four states have outright mandates for abortion providers to administer ultrasounds and present the results to their patients seeking abortions. 
This barrier to abortion, like many others, particularly hurts low-income women who might be hard-pressed to come up with the money to pay for an abortion — let alone an additional ultrasound, which can cost between $200 and $300. 
In her ruling, Pratt struck down other features of the ultrasound legislation, including a ban on abortions due to fetal genetic abnormalities and a requirement that abortion providers bury or cremate aborted fetuses, provisions Pratt first halted in June. 
"This is a major victory for women in the state," Ken Falk, legal director at ACLU in Indiana, said during a Monday press conference. "It's a major victory for Planned Parenthood."