Xbox Project Scorpio Games: 'Red Dead Redemption 2' and 'Forza 7' release at launch?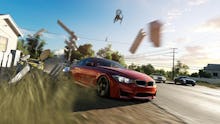 Last month, Xbox head Phil Spencer teased that we'd find out more about the beefed up Project Scorpio console before E3 this June. Such an event would likely focus on hardware with some footage of games to show off exactly what Scorpio can do, while the E3 press conference will likely focus more heavily on the games themselves.
However, Windows Central has heard from "reliable sources" that we'll see some gaming heavy hitters at the Xbox Project Scorpio reveal event ahead of E3.
Xbox Project Scorpio Games: Red Dead Redemption 2 and Forza Motorsport 7 highlight the lineup
Windows Central's sources say Forza Motorsport 7 will headline the console's early promotion, showcasing its 4K capabilities to render cars that might as well just be real at this point. We'll also supposedly see other first party games like State of Decay 2 and Crackdown 3. 
As far as third party titles go, the biggest one we'll supposedly see is Red Dead Redemption 2. Sports games like FIFA and EA's new Star Wars Battlefront 2 shooter will apparently come to the platform as well. None of this is especially shocking, but that's a solid list of games to promote your new console with.
Project Scorpio is Microsoft's answer to the PS4 Pro. It's a souped up Xbox One with six teraflops of power, 4K capabilities and VR support. We don't yet know what its official name is, what it looks like, when it's coming out (aside from Fall 2017) or how much it costs. If Windows Central's sources are to be believed, we'll know more in the coming weeks, well ahead of E3 in June.
More gaming news and updates
Check out the latest from Mic, including our deep dive into how female Overwatch players are dealing with online harassment, an article about a fan movement advocating for more same-sex romance options in Mass Effect, a cool making-of video for Legend of Zelda: Breath of the Wild and an article about what a Bechdel test for gaming might look like.