Undocumented activists announce plans for the biggest workers strike in over a decade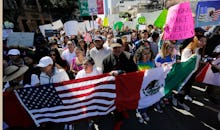 A coalition of immigrants' rights groups, workers organizations and labor unions just announced their plans for the biggest single day strike in over ten years. 
The strike, planned for May 1 — a historically significant day for labor organizing — is an attempt to highlight the importance of labor from immigrants and working class people of color in the United States economy.
Organizers from Movimiento Cosecha, an immigrant rights activist group told Mic more than 400,000 workers have committed to the strike and they're expecting heavy turnout in states like California, where tens of thousands of workers from the SEIU United Service Workers West have pledged to join the strike. They're also encouraging allies across the country to strike in solidarity with immigrant workers.
In February, the "A Day Without Immigrants" nationwide demonstration managed to shutdown businesses across the country in protest of President Donald Trump's anti-immigrant rhetoric. Organizers hope to build on the momentum of the growing resistance to the Trump agenda and pull off an even larger strike this May.
"After years of broken promises, raids, driving in fear of being pulled over, not being able to bury our loved ones, Trump is just the final straw," Maria Cabello, an organizer with Movimiento Cosecha, said in a statement. "As we saw during the spontaneous strikes on February 16, our people are ready."
On Monday, organizers from Cosecha, Fight for $15, the Food Chain Workers Alliance and the SEIU United Service Workers West, along with former Bernie Sanders press official Erika Andiola gathered in Washington, D.C., to announce the strike.
"It's very important that we can show that the undocumented community can turn fear into power," Andiola said. "We hope that our communities can come out and say, 'Yes, we're here, yes we are going to show our power and yes we can change this community.'"