'Persona 5' Crossword Puzzle Answers: Guide and tips to looking like a smarty pants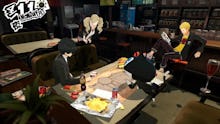 There is plenty to do in Persona 5 – from building relationships to getting a part-time job. On specific dates, you'll even have access to a crossword puzzle mini game. 
The crossword puzzle is an easy way to boost your Knowledge stat — and a great way to impress your real-life roommates as they watch you play Persona 5. If you're struggling to fill in the blanks, check out our guide for some help.
Persona 5 crossword puzzle answers
The crossword will appear in Cafe LeBlanc a couple times per month. Each time you will need to answer a single question to get the reward of 2 points of Knowledge.
Twinfinite has put together a handy list of the answers in the order that they appear:
1. Blue Mountain
Make sure to take advantage of every crossword opportunity, as it is a fairly easy opportunity to get a stat boost. In addition, don't forget to check out our guide on getting good grades — in Persona 5 that is. You're on your own in real life.
More Persona 5 news, updates, tips and tricks
For more on the latest entry in the Persona series, check out the rest of what Mic has to offer. Here's a guide to building relationships with the game's Confidant system, and a guide to when and how you can name your main character.