Trump cut the Interior Department a $78K check — 3 weeks after proposing devastating cuts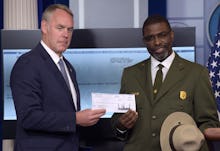 President Donald Trump on Monday made good on a campaign promise to donate his presidential salary, cutting a $78,333 check to the Interior Department.
White House press secretary Sean Spicer presented the check — which amounts to Trump's first-quarter salary as president — to Interior Department Secretary Ryan Zinke, who said he plans to use the funds for the National Parks Service.
However, the $78,333 check is a drop in the bucket compared to the budget cuts Trump proposed for the department, which oversees the management of federal land and natural resources.
Trump's "America First" budget proposal released March 16 recommended slashing $1.5 billion from the Interior Department. That cut would amount to a 12% reduction in the department's annual budget, according to the proposal.
The $78,333 amounts to roughly 0.0052% of Trump's requested cuts.