Google's 'It's Lit' study highlights the perceived gender imbalance in modern video games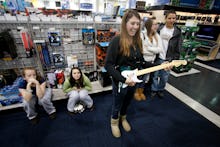 Teens know what's cool, that's just how it is. That's why the resurfacing of Google's internal study clueing us lame millennials into what teens like is so fascinating. The findings of the report, titled "It's Lit," teach us that PlayStation is cool, #NetflixAndChill is how teens "connect" and video games are wildly popular — just not among teen girls.
Google teen study indicates interesting numbers for video games among girls and boys
Before we dive in, it's worth noting that some of the data provided are questionable at best. For example, on page 20 it claims that teens think Google's Chrome browser is cool because it's "fast, reliable and easy to use." And on page four it suggests the company's failed social network, Google Plus, has nearly as many female teen users as Pinterest. Seriously?
However, a chart on page two showing "What's Cool" according to 400 teens reveals something interesting about the way girls and boys view video games. Gaming scored the highest number of cool points from the list among male teens, beating out technology, sports and music. According to the same data, however, girls really do not think video games are cool.
Most teen girls do play video games
Google's numbers come from late 2016, but other statistics offer a similar story. In general, the gender split of gamers is about 60-40 men to women. The same study says half of gamers are older than 35 and a half are younger. Another study from the Pew Research Center found that 84% of boys and 59% of girls play video games.
That's not as drastic a difference as the data reported by Google, but it still highlights a noticeable gender gap when it comes to video games. By comparison, Google found that interest in "media entertainment" was even between male and female teens, which is supported by a 2014 study from the Motion Picture Association of America. So why the huge discrepancy between games and other popular forms of entertainment?
Do apps count as video games?
The cause for this drastic difference may simply be how we define video games. The term instantly calls to mind violent first-person shooters and lengthy role-playing games. Meanwhile, titles like Candy Crush and The Sims enjoy an overwhelmingly female audience. Still, for many people, games like that don't fall in the same category as titles like Call of Duty or Grand Theft Auto. Even when teen girls playing an actual video game, studies find they're more likely to keep it quiet.
Change on the horizon?
Aside from the perceived different between traditional video games and mobile games, there are other factors that contribute to a lack of young female involvement. For one, women simply don't make up the majority of game developers, and the women who do work in the game industry can expect to earn as little as one-third of what their male counterparts make. Despite those numbers, the number of women game developers appears to be on the rise.
As the type of people making video games changes, so too could the types of games being created. That could mean more female protagonists and video games that appeal directly to female teens. At the very least, maybe girls will think video games are as cool as Google Chrome.
More Mic video game coverage
Find out more about video games on Mic. Learn how the blind can play video games using the Nintendo Switch and why Mass Effect's lesbian romance isn't exactly a win for inclusion. If you're looking for news about video games and not "video games" check out Google Maps' latest easter egg, or read our hands-on of the new Injustice game.