Mistress Scarlett's new dominatrix book sheds light on how empowering BDSM can be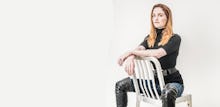 Jenny Nordbak was a mild-mannered construction manager by day, but by night, she was the powerful and assertive dominatrix known as Mistress Scarlett.  
She spent her time in a Los Angeles dungeon fulfilling the erotic desires of some of Hollywood's biggest actors, musicians and screenwriters, whipping, beating and tickling them in exchange for $200 an hour. It was generally a rewarding experience — sometimes she got foot massages for hours on end — but the job also had its share of dangers, and at times, Nordbak was at serious risk. And since screaming, "No, stop! Please help!" was often part of the roleplay, escaping from a dangerous client sometimes meant taking matters into her own hands. 
Nordbak spoke about her upcoming book The Scarlett Letters: My Secret Year of Men in an L.A. Dungeon, which debuts Tuesday, her journey as Mistress Scarlett, the fantasies she fulfilled for her male and female clients and the lessons she learned during her time as a professional dominatrix.
Mic: You were a construction manager by day, but by night led a double life as Mistress Scarlett — a dominatrix who whipped, beat and bound Hollywood's elite in an L.A. dungeon. What led you down that path?
Jenny Nordbak: I was just graduating from USC with a degree in archaeology and $100,000 in student loans and had absolutely no idea what I was doing with my life. I was panicking a little bit. At the same time I was realizing I'd been in this string of unsatisfying relationships where I had never really found my own identity — I was becoming whoever my partner wanted me to be. 
So I sort of stopped and began to question what I really wanted, specifically what I wanted in the bedroom. I realized the answer was something that was alternative to that mainstream image I was constantly being fed. And keep in mind, this is pre 50 Shades of Grey — this is not a mainstream conversation that's going on. BDSM was very much a part of the underworld. So I went digging online and found there was a working dungeon not 10 miles from where I was living in L.A. So I was sort of first of all going, "What is a dungeon?" And then realizing what it is, I got curious and excited. Then I see the banner on the side of the page that says, "Now hiring, no experience necessary." So I just jumped off the deep end. 
What was your journey like during your time as Mistress Scarlett? 
JN: It was eye opening to see just how diverse human sexuality really is, especially compared to what we see in the mainstream media. I think people's desires are much more varied than anyone realizes. As far as my personal journey, I think I started as an insecure girl who really hadn't found her voice. Through the experiences and the people I met there; the people I was mentored by, I found a way to assume my authentic identity and speak up for myself.
Was it difficult diving into that world at first?
JN: Yeah, I mean, people usually find this hard to believe, but I had no experience, like nothing, whatsoever. I was as vanilla and fresh as could possibly be. So I was initially shocked by everything because most of it hadn't even crossed my mind. Like, my first session was a tickling session. And it had never entered my mind that anyone would be sexually attracted to tickling. So, initially, everything was just kind of shocking and confusing, and then it started to get weirdly normal. Your perspectives just shift.
So it was shocking at first, but is it safe to say that as time went by you become desensitized to it?
JN: Yeah. Desensitized. And I think I just opened my mind more. I think our default is to judge anything that's different and I just learned to let go of that.
Did it ever become enjoyable for you, or was it always considered work?
JN: Oh no. There were definitely sessions that I enjoyed. I mean, it was like a lot of jobs, where some sessions where it was, "I cannot believe I'm getting paid for this" — you know, you're getting a foot rub, or it was something I was really into or I connected with the client. And then there were other sessions where I was like, "I don't get paid enough to deal with this."
Was there any point you feared for your personal safety?
JN: There were a couple of times where things got a little iffy, and then one where things got particularly out of hand and I was concerned about my safety. It's strange, in that environment. I realized in that moment there's almost nothing you can call out that someone will even realize is an issue. Because if you think about it, yelling, "No, stop! Please help!" is just regular dialogue in a regular scene, so no one thinks anything of it. So it was distressing because I realized I was going to have to get myself to a safe situation. The client in question was barefoot and I had stiletto heels on so I took a step back and planted my heel into the top of his foot and that took care of the issue.
What was the pay like, and do you feel like it was worth the money?
JN: A session is about $200 an hour, and the mistress walks away with about $100 an hour. For me, especially being 22 and coming out of school with a bunch of student loans and trying to make ends meet, that was a lot of money. In a four-hour session you could be walking out of there with $400 for having someone massage your feet, so that can go a long way with paying rent or paying off loans.
As Mistress Scarlett, Hollywood's biggest actors, musicians and screenwriters paid you to act out their erotic desires. Were there ever any moments where you recognized a client? What was that like?
JN: Yes. And I mean, it was disconcerting because I'm supposed to be in this sort of aloof, very dominant, self-possessed character, and you immediately want to fan girl a little bit. But I kept it together. 
What was the biggest difference between your male and female clients? 
JN: In general, I think men's fetishes and desires are much more specific. They fixate on particular words or colors or they need things to happen in a really specific way. Whereas, I think women tend to be trying to recreate a feeling and they don't necessarily have a specific way they need that to happen. Women would also often come in to learn.
So at some point would you say were more of an instructor then?
JN: Oh, absolutely. And oftentimes that was part of a couple as well. So a couple would come in together and sort of learn how to introduce that kind of stuff into their bedroom.
What were the biggest things you learned about yourself, relationships and sexuality as a whole during your time as Mistress Scarlett?
JN: I learned that most of us are really terrible at communicating in our relationships. Even when we think we're being really open with our partners, we're actually holding a lot back. It was a big learning experience for me to realize just how much I was doing that and to start being more vulnerable and go deeper with my partner.
You mention that during your time as Mistress Scarlett you found your own voice, power and compassion for others. What was that journey like?
JN: I realized that everyone is really struggling with something and in the case of fetishes or alternative special practices, a lot of time they're struggling with deep shame. And that's really sad to me because I don't think there's any need for it. So I see people differently now and I'm much more empathetic to their struggle. And I think that makes me feel different about myself — that I'm a part of that and I'm not off on my own and the only one who's struggling.
Being in that role for long enough, you have permission to be assertive and confident and sort of be all of you in a way that women are discouraged from being most of the time. I don't think we even realize how much we're toning ourselves down so we're not viewed as aggressive or masculine and once you let that loose, it's out. It's out for me now and I know I've sort of filled into the whole feminine power if you will.
So it's like the difference between filling the stereotypical gender roles and being yourself.
JN: Yeah. Exactly. I don't feel like I need to make myself less-than so that I don't intimidate anyone.
As a wife, how has your journey as Mistress Scarlett affected your marriage? 
JN: I'm much more open with my husband than I think I ever would have been. I think I apply everything I learned at the dungeon to my relationship in terms of communicating openly and deeply and being comfortable and vulnerable. And I think we tap into that power dynamic a lot more and are comfortable with that sort of masculine-feminine, dominant-submissive power play that happens in a relationship. Interestingly, he's actually dominant to me, but in a really empowering way, where he lets me be all of me, but he still lets me be a girl by being this very alpha, masculine figure.
It sounds like there was a lot of positive that came out of this experience. Would you recommend your path to others? 
JN: I don't know that I would recommend doing it professionally as being the right path for most people. I think for me it was a really positive journey, but that's not necessarily true for everyone. But I think we're in a different world now where it's much more mainstream. There's a supportive and empowering BDSM community out there, so I definitely recommend that people explore their curiosities, and I think the best way to do that is to plug into that BDSM community.
If you could do it all again, would you?
JN: Absolutely. For me, because I'm really happy with where I've ended up and what I've learned. I wouldn't trade those experiences for anything.
The Scarlett Letters: My Secret Year of Men in an L.A. Dungeon hits the shelves Tuesday and is available in most major bookstores.
Mic has ongoing books coverage. Please follow our main books hub here.