When it comes to good hospitality, bathrooms are just as important as the food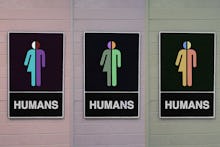 When Barbara Sibley opened her Mexican restaurant, La Palapa, in New York's East Village in 2000, she installed two single-stall, private bathrooms for her guests to use, each simply labeled baño.
"[The decision] came more from a feminist point of view than a trans point of view," Sibley said in a phone interview, recalling that her friends, colleagues and neighbors at the time were "all over the gender spectrum." But trans issues weren't discussed in mainstream business decisions back then. Sibley just wanted her bathrooms to be egalitarian. 
"Going to bars, restaurants and theaters, I was always struck by how ridiculous and unfair bathroom situation was. In fact, I often used the 'Men's Room' instead of waiting in a ridiculous line [for the women's]," Sibley said. She wanted to eliminate the "inherent sexism" that comes with gendering bathrooms, the "weird taboos about the human body" and "sexualization of gender." She wanted to let guests pee in peace. 
As it turns, out, Sibley's thinking aligned with legislation that came 16 years later: New York City passed a law in June 2016 making it illegal to gender single-stall restrooms, inviting consumers to call 311 if they witness businesses not following this law.
Across the city, restaurant owners have implemented their own gender-neutral bathroom signs. 
"Our staff represents the diversity, fabric and DNA of New Yorkers," said Matt Levine, owner of SoHo's Chalk Point Kitchen, of adding a gender-neutral bathroom after receiving suggestion from one of his servers. "Nobody should be denied access to the use of a bathroom based on their identity ... Gender-neutral bathrooms are important, let's include and welcome, not discriminate." 
In early March, in support of trans student Gavin Grimm, Yelp announced a new feature that denotes restaurants with gender-neutral bathrooms. This amenity is listed alongside wheelchair accessibility, WiFi, alcohol service and other criteria, empowering diners to prioritize visiting establishments with gender-neutral bathrooms, should they need those facilities or want to support places that do. 
Bringing the government into the bathroom
Still, not all businesses are so willing to open their bathrooms to anyone and everyone. 
In March 2016, North Carolina's Public Facilities Privacy & Security Act, also known as HB2, mandated that bathroom users in North Carolina must use the bathroom corresponding with the sex assigned to them on their birth certificates, rather than their current gender identity. Outrage from trans people, gender non-conforming people and countless allies ensued – how dare the state legislature mandate where people pee? 
Though the law was controversially repealed around a year later, North Carolina is still trying to restrict bathroom access and the state of Texas adapted a similar discriminatory bill in May 2017.
HB2 resulted in an estimated loss of $86.3 million in business for North Carolina, among other negative social and political consequences of legalized discrimination. It's also led to discussions of using non-confrontational bathroom signage to support the LGBTQ community. 
Chef and restaurateur Ashley Christensen runs several North Carolina restaurants, including Poole's Diner, Chuck's and Beasley's Chicken + Honey. "Up until the passing of HB2, all of our restrooms were gendered — honestly, we didn't think twice about it at the time, because we've always been of the mindset that our guests should use the restroom that best suits them," Christensen explained via email. "But after the passing of HB2, we realized that we had the opportunity to create a safer space by making the very small tweak of changing the signs on the doors of our single-occupancy bathrooms to be gender-neutral."
"Whatever you believe, whatever your politics are, we're all human beings and deserve to feel safe and be respected." — Ashley Christensen
The new signs at Christensen's restaurants read: "People Room"
"It was our hope that the name would inspire people to remember that whatever you believe, whatever your politics are, we're all human beings and deserve to feel safe and be respected," Christensen said. She estimates that 98% of the feedback on the bathrooms has been positive, with guests posting pictures on social media to support the signage. 
"My hope, as someone who has dedicated her life to hospitality, is that everything we do, every change we make, serves to make our guests feel more comfortable when they come in to enjoy a meal with us," Christensen said. Several of Christensen's team members have experienced discrimination outside of work and Christensen wants to show that her business supports them and "will do whatever we can to keep them safe."
Practical bathrooms are good hospitality
Christensen is far from the only North Carolinian advocating for trans folks via restaurant bathrooms. After HB2 passed, the 21c Museum Hotel Durham added new signage to its single-stall restrooms, making them gender-neutral for all guests. "We oppose discrimination on any basis, and are concerned about this issue as a human one, as business owners and employers," Josh Womer, the director of food and beverage for the hotel's restaurant, Counting House, explained in an interview. "There is a moral obligation and responsibility to our community, our guests and our team to voice our opposition."
To voice the opposition, artist Peregrine Honig designed a sign entitled We Don't Care (it's also a work of art that is numbered and signed by the artist, Womer explained). The piece depicts the combined silhouettes of the male and female figures familiar from gendered public restroom signs. 
"There are many times when gender-specific toilets put others in uncomfortable situations that go beyond the LGBTQ community — from single dads and moms helping their young children, to disabled adults in need of assistance," Womer said. 
For gender non-conforming and trans people, the issue of gendered bathrooms can lead to safety concerns as well as a desire to be recognized and valued in society.
Marina Benedetto, who runs Brooklyn-based vegan hot dog company Yeah Dawg, said that a gender-neutral bathroom serves as a symbol to customers that all are welcome. "It's more than just bathrooms, it's recognizing a whole group of people that are marginalized ... The bathroom is the beginning of visibility, in some ways," she said in a phone interview. 
"The bathroom is the beginning of visibility ..." — Marina Benedetto, Yeah Dawg, Brooklyn
As a gender non-conforming business owner, Benedetto tries to use Yeah Dawg as a platform for GNC and trans activism and actively supports restaurants that offer gender-neutral facilities. 
When a restaurant lacks a gender-neutral bathroom, Benedetto can run into trouble: "I'm always like, okay, which one? If I go in the women's room, I'm going to get screamed at. If I go in the men's room, I may get beat up ... Restaurants need to care about the basic needs of people's safety and comfort." 
While having gender-neutral bathrooms is indeed good for business — an estimated 1.4 million adult Americans identify with a gender other than the gender assigned to them at birth —  there's another lingering, prominent reason to make public bathrooms gender-neutral. As North Carolina-based restaurateur Christensen said: "You don't have to wait in line as long!"