Blackwater's Erik Prince reportedly tried to set up back channel between Trump and Putin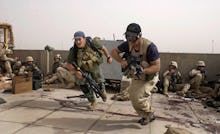 Erik Prince, co-founder of notorious private military contractor Blackwater, traveled to the Seychelles islands in January to set up a secret back channel between President Donald Trump's administration and the Russian government, the Washington Post reported on Monday.
The meeting between Prince and a "confidant" of Russian President Vladimir Putin was arranged in secret by United Arab Emirates officials. According to the Post, Prince, an ardent Trump supporter, portrayed himself as an "unofficial envoy for Trump" during the meeting despite having "no formal role with the Trump campaign or transition team."
The exact nature of the discussions between Prince and the unidentified Russian operative is unclear. The Post reported Russia and the UAE considered it "productive" but ultimately decided against another meeting when they determined it was "too politically risky."
"The Seychelles is the kind of place where you can have a good time away from the eyes of the media," Seychelles Secretary of State for Foreign Affairs Barry Faure told the paper. "That's even printed in our tourism marketing. But I guess this time you smelled something."
As the Post noted, Abu Dhabi crown Prince Sheikh Mohamed bin Zayed al-Nahyan was specifically named as an organizer of the Prince-Russia meeting. Zayed traveled to Trump Tower for an undisclosed meeting in December 2016 with former national security adviser Michael Flynn; Trump's son-in-law and adviser, Jared Kushner; and chief strategist Stephen Bannon, who regularly worked with Prince on content for his far-right news site, Breitbart.
Prince is also the brother of Betsy DeVos, Trump's education secretary.
Trump is facing House, Senate and FBI investigations into his and his staff's possible collusion with the Russian government, which U.S. intel officials say leaked embarrassing information about Democrats to throw the election for Trump.
Blackwater, which Prince left in 2010, acquired a reputation as a brutal band of mercenaries after scandal after scandal marked its tenure supporting U.S. occupation forces in Iraq. Blackwater contractors were prosecuted as the shooters in massacres of Iraqi civilians, and former employees also named it in connection with widespread human trafficking during the worst years of the Iraq War. Blackwater also ran into serious legal trouble for allegedly defrauding the U.S. government, which might explain why it changed its name twice: first to Xe Services in 2009, and then to Academi in 2011.