'Arab News' boots AEI columnist for demanding deletion of old pro-Clinton articles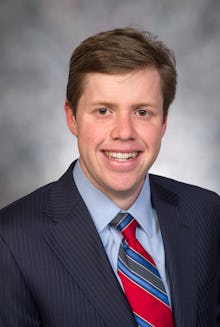 Arab News, an English-language publication based out of Jeddah, Saudi Arabia, has canceled the column of American Enterprise Institute visiting scholar Andrew Bowen for pretty much the funniest reason imaginable: demanding they delete old articles in which he endorsed Democrat Hillary Clinton so he can be "cleared" to join President Donald Trump's State Department.
In an announcement Monday, Arab News wrote the column had been discontinued after Bowen insisted "that this newspaper deletes previous articles dating back prior to the recent U.S. election where he was in favor of Democratic candidate Hillary Clinton."
"Mr. Bowen also insinuated — verbally and in writing — that he will seek the support of influential friends and contacts to help remove the articles," Arab News added, calling the requests "unprofessional journalistically."
The paper sarcastically added they "wish Mr. Bowen the best of luck in his job application."
A purview of Bowen's publishing history at Arab News finds he suggested the rise of Trump meant the loss of "sense and sensibility" on relations with Saudi Arabia and wrote the release of the infamous Access Hollywood tape revealed Trump is as "boorish and predatory in private as he is in public." In yet another article, denounced Trump's "inability to control his temperament, repeated personal misjudgments, and boorish remarks" and hailed Clinton as likely to "get a lot more done as president than [Barack] Obama ever did."
Later, as Trump was closing in on victory in November, Bowen warned the future president "has done more than any other presidential candidate in modern US political history to whip up xenophobia and anti-Muslim sentiments in the U.S." He added, "Trump has shown repeatedly a frank disregard for human decency and civility."
After the election, Bowen changed his tune, suggesting Trump's victory would be "an opportunity now to move beyond the divisive and partisan rhetoric of this long political season and to support and to work with the new president and his incoming administration to address the deep challenges facing the U.S."
The success of Bowen's late-stage pivot, however, seems doubtful at this point.
Bowen did not immediately return a request for comment for this article.