Jeff Sessions orders DOJ staff to review all police reform agreements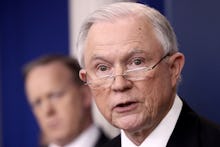 President Donald Trump's Attorney General Jeff Sessions ordered the Department of Justice begin an immediate review of reform agreements with the nation's police forces, seemingly setting off the rollback of reforms at police departments the DOJ previously accused of brutality, civil rights violations or corruption.
According to the Washington Post, the two-page memo released on Monday comes shortly after "the department's civil rights lawyers asked a federal judge to postpone until at least the end of June" a historic agreement with the Baltimore Police Department reached after the DOJ issued a withering report on the department's practices.
Sessions ordered a review of all such agreements nationwide, potentially imperiling 14 consent decrees — agreements between police departments and the DOJ to reform police practices — reached after Barack Obama's DOJ ordered 25 investigations into law enforcement agencies since 2009. Among those consent decrees is an as-of-yet unfinalized agreement with the Chicago Police Department, which a DOJ investigation concluded engaged in rampant abuse of their powers.
"Local control and local accountability are necessary for effective local policing," Sessions wrote in the memo. "It is not the responsibility of the federal government to manage non-federal law enforcement agencies."
Later, Sessions appeared to suggest he was concerned the Obama administration had overblown the problem of so-called bad apples: "The misdeeds of individual bad actors should not impugn or undermine the legitimate and honorable work that law enforcement officers and agencies perform in keeping Americans safe."
Police shot and killed at least 963 people across the country in 2016, with activist group Killed by Police reporting at least 1,155 officer-involved homicides. In the wake of several high-profile police killings in recent years, increasing pressure has been directed at law enforcement agencies that seemingly use disproportionate force with few legal consequences. U.S. police kill people at some of the highest rates among rich, developed countries, and the victims tend to be disproportionately minorities.