Carter Page Russia Spy Meeting: 3 key takeaways on former Trump adviser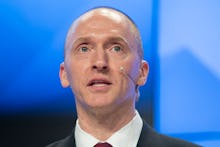 Another day, another link between President Donald Trump's team and the Russian government.
Carter Page, who was a foreign policy adviser to the Trump campaign, had been targeted for recruitment by a Russian spy in 2013, BuzzFeed News confirmed on Monday.
Page told the outlet he had met and exchanged documents with Victor Podobnyy, an intelligence operative who in 2015 was charged in absentia by the United States for acting as an unregistered agent of a foreign government.
It is the clearest documented connection between a Trump associate and Russian spies so far, BuzzFeed reported.
Page — an energy consultant with strong business ties to Russia but little name recognition in foreign policy circles — was named an adviser to Trump's campaign in early 2016 but was axed amid reports of a federal probe into his potential communications with Russian senior officials.
Here are three key takeaways from the latest development in the scandal:
Carter Page is "Male-1"
A court document for that 2015 case describes Russians spies having promised someone identified as "Male-1" favors for business opportunities in Russia, ABC News reported.
Carter confirmed to BuzzFeed on Monday that he is "Male-1" and that he had been interviewed in the FBI investigation into the Russian spy ring.
Podobnyy and Igor Sporshyev were charged in absentia on espionage charges. Evgeny Buryakov pleaded guilty to a charge of conspiring to act as a foreign agent and was sentenced to 30 months in prison; he had been using his position at the Manhattan office of VEB Bank as cover for espionage, ABC News reports.
The court filing shows Podobnyy speaking with Sporshyev about attempting to recruit Page.
"I also promised him a lot," Podobnyy said, according to the filing. "This is intelligence method to cheat, how else to work with foreigners? You promise a favor for a favor. You get the documents from him and tell him to go fuck himself."
Page told Buzzfeed that it had been obvious within the energy industry that he was "Male-1."
"In this city? Give me a break," he said. "It is so obvious."
Page exchanged emails with a Russian spy
Page met with Podobnyy at a 2013 energy conference in New York and for six months after exchanged emails and documents about the energy industry with him, according to BuzzFeed.
Page said the emails did not contain sensitive information. 
Page denies working to help Russia undermine election
Page was named in former MI6 agent Christopher Steele's explosive intelligence dossier as a figure the Kremlin had sought a relationship with. 
Page denied wrongdoing in a message to BuzzFeed in March, calling the dossier "dodgy."
"I didn't do anything wrong... including meeting with any of those people I'm falsely accused of in that Dodgy Dossier," Page said.
Page said on Monday that he "shared basic immaterial information and publicly available research documents" with Podobnyy, according to NBC News. 
He has offered to testify in front of the Senate Intelligence Committee for its investigation into ties between the Trump campaign and the Russian government.