Kylie Jenner's Snapchat might shed some light on her relationship with Tyga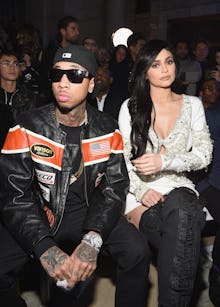 Kylie Jenner took to Snapchat on Monday presumably to clear up some rumors about her relationship with rapper Tyga. 
Jenner, 19, has been dating Tyga, 27, since 2015. The two have had an on-and-off relationship, splitting up for a short time May 2016. Recently, rumors have circulated that the two are on a break again. But these Snapchats might prove otherwise.
Jenner can be seen singing along to her boyfriend's music, which has some speculating that she's still going strong with Tyga. In one Snapchat she sings along to "Act Ghetto" and in another, his song "100s." 
Jenner smartly chose to sing along to Tyga's song "Act Ghetto" which has the line, "Getting' checks like Kylie, yeah, everyday I do it, yeah/ Yesterday, I did it, every time I'm with her." This has now become an episode of Veronica Mars and Jenner may have just solved the case for everyone else. 
The two haven't been sharing much from their relationship on social media recently. There has been a serious lack of romantic social media posts from the couple in recent months. Both Tyga and Jenner last shared an Instagram celebrating their love in February, but nothing since. 
This news comes after a troublesome March for Tyga which may have put a dent in his relationship with Jenner. The rapper's ex, Blac Chyna — who has a child with Jenner's half-brother Rob Kardashian — took to Snapchat to air some dirty laundry. 
Tyga and Blac Chyna have a 4-year-old child together, King, and she claims that Tyga has not paid child support. She also appears to have accused Tyga of cheating on Kylie in the Snapchats. 
The drama just never stops for the Kardashians, Jenners and those in their sphere. 
Mic has ongoing Kardashians coverage. Please follow our main Kardashians hub here.