Syria gas attack: Number of dead in Khan Sheikhoun rises to 58, activist group says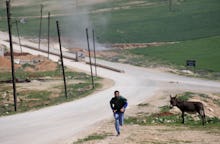 At least 58 are dead after a suspected chemical attack in the northern Syrian town of Khan Sheihkoun, the Associated Press reports. Local activists described the attack as the worst since the 2013 toxic gas attack in Ghouta, a suburb of Damascus, which killed hundreds. 
The number of dead comes from the Syrian Observatory for Human Rights, which also said that 11 of the 58 dead were children. Activists believe the airstrike was carried out either by the Syrian government or Russian warplanes, according to the AP,
The White Helmets, a volunteer civil defense organization, posted pictures to their Twitter account of people being rushed to hospitals for treatment after the attack. 
The suspected chemical attack is the third in Syria in just over a week. Both previous attacks occurred in the Hama province, not far from Khan Sheikhoun, according to the AP. 
The Syrian American Medical Society, a nonprofit medical relief organization, said it sent inspectors to Khan Sheikhoun and that an investigation is underway. Currently, the group has no information on the chemical agent used in the attack.
After the 2013 attack, president Bashar Assad agreed to destroy his 1,300-ton stockpile of chemical weapons and "precursor chemicals" used to make weapons. Though they were destroyed, chlorine was not part of the chemical weapons agreement. Activists say they have seen dozens of chlorine gas attacks since then. According to the AP, the Syrian government has repeatedly denied using chlorine gas for attacks, accusing rebels of using it, instead. 
However, doctors suspect it may be more than one kind of gas, as chlorine gas does not cause convulsions, which is a major symptom of Tuesday's gas attack. They suspect sarin may be one of the other gases. 
A media activist told the AP that the local hospital is equipped to handle chemical attacks because of previous instances of chemical warfare. 
The wounded have been "distributed around in rural Idlib," Mohammed Hassoun told the AP. "There are 18 critical cases here. They were unconscious, they had seizures and when oxygen was administered, they bled from the nose and mouth."
One Syrian man who lost his niece and her family in the attacks told the AP the attack happened early, as people were still in bed. 
Idlib, Khan Sheikhoun's province, is controlled almost entirely by Syrian opposition and home to about 900,000 displaced Syrians, the AP reports. Because of its high concentration of displaced, opposition officials fear the government may be planning a concentrated attack on the area.